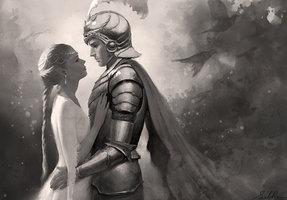 Prologue
They had been married for a few years now and they had her on a full moon and meteor shower. The high priestess said it was a good omen from the gods. That she was destined for greatness and to bring their country out of darkness into the light. A week after her birth a mysterious man attacked the castle.
"I can't leave you," she whispered hugging her baby daughter closer. He kissed her lips deeply and their baby's head while she gurgled and giggled. He turned to the wall behind her and pulled the lever opened the secret door.
"I will buy you sometime my love, take Alexandria to the cottage we talked about," he said pushing her towards the door as shouting came from the hall.
"Don't make me raise her on my own," she pulled him to her and he closed the door between them. She ran through the tunnels into the town and soon heard his echoing laughter. She ran faster until she came to the river and he was gaining. She laid her baby in some bushes and kissed her.
"My sweet daughter this locket was a gift from my mother and she got it from her mother. Wear it so I may always be with you and so that one day you will know that I will always love you," she clasped the locket on her baby and she left. Two screams filled the night while one was of fear and the other was of a lost love. While a baby lay in the bushes sucking on her mothers locket until she gurgled and began to cry. A woman heard the crying and followed it to the baby.
"Shush child your safe now,"she said before the baby blanket caught her eye,"Alex." She decided to take the young baby back to her home Valentina. As she held the small baby she felt her heart grow and squeeze the her inside. She filled a space that she had long forgotten was empty. Their cottage was small and perfect. Nestled in a small grove of trees and as the woman laid down the child she gurgled and laughed before falling asleep. With a kiss upon her brow the woman sat next to the small basket she used.
"I wonder who left you," she whispered as she blew out the light.
The babies father searched for his family hearing that they never made it out. He found his wife in a rose garden gasping for air.
"My love what happened," he said crying as he held her.
"Take care of her"
"No no don't talk like that," he whispered stroking her face.
"We both know," she gasped and gripped his arm, "she is a bush by the river. I lo." Her eyes went blank and her body went limp and he cried. He stopped though and wiped his tears and searched for his daughter. He couldn't find her no matter how hard he looked. He assumed that who ever killed his love took his child. He went to the temple where the priestess lived but she had no answers. He asked anyone who he thought might know but still no one knew. He began to loose what little hope he had. He shut himself in his castle and erased any memory of his daughter or wife except a small portrait he locked away in the tower. He had but one key and he never opened iit no matter how many times his staff or advisers asked him too. Little did he know in a small glen far from the city his daughter lay sleeping a basket unaware of who she would become.