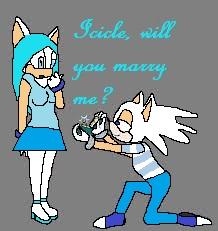 It all started with a proposal...
Icicle
______
This is how it all started:
I knocked on Kris's door one night last week. I was meeting him for tea, wearing my new style of a light blue sleeveless top, a blue skirt, and turquoise heels. I just thought it was a get-together. But when he escorted me to the kitchen...
I saw a proper fancy meal for 2!
"Kris, it's amazing," I said. "You made this?"
"All of it," Kris said. He took out a wine bottle from the fridge, and two wine glasses from the cupboard.
I took a bite of his food, and oh my God it was delicious!
"Well? How is it?" Kris asked.
"It's gorgeous!" I replied. "Absolute amazing!"
Kris then took my hand. He stood up from his seat and walked to my side.
"Kris? What are you doing?" I asked.
"I know I'm not good at this," Kris said, "but I have to say it. I believe we're meant to be together." He then took out a box from his pocket, and dropped to one knee. "Icicle, will you marry me?"
I have to say, when he did that, I was NOT expecting it. It blew me away.
He opened the box and inside it was the most amazing ring I have ever seen. The diamond in it was an icy blue. And it shined! It wasn't fake!
"Kris, I..." I couldn't quite get my words together at first, but in the end I managed to say, "Yes. Yes I will!"
He stood up, smiling, and placed the ring on my finger. It was so beautiful.
+++
From then on, it was settled. Now Kris and I are preparing for our big day.
But there's just one problem.
It's all starting to fall apart.
No, not our relationship.
The wedding plans.