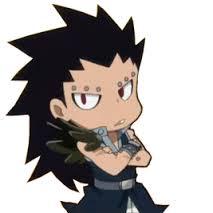 Eat
You heard a door open, and lifted your head from your pillow. In came Iron Dragon Slayer Gajeel Redfox, looking bored. "Ga...Gaj," you tried to say his name, but your mouth was dry from your illness. It had struck after you returned home from a walk, clogging your nose and making your throat hurt. It was nowhere near serious enough for worry, but your doctor had recommended you stayed in bed whenever possible. So there you were, lying in your room, when the black-haired man entered. "Gajee…" you tried again.
"Shut up, you sound like a baby," he said as he walked to your side. You noticed he had a steaming bowl in his hands. The scent couldn't quite permeate your nose, however. "I brought you food."
"Tha...you…" You sat up, then looked to the side, embarrassed you couldn't even say simple sentences. He placed the bowl in your lap, then walked off to get you some milk. Looking down, you saw it was full of macaroni and cheese, one of your favorite dishes. You gave a small smile as he returned.
"Here." He set the glass of milk on your nightstand, then pulled up a chair and sat in it, taking an impatient stance. "What are you waiting for? Want me to feed it to you?" You gave him a hopeful look, and he sighed. "Just this once," he said, scooting the chair closer. You winced at the sound of the legs screeching against your wooden floorboards, and then your mouth was filled with piping hot pasta.
"Mmph!" Gajeel looked at you, fork in hand. "Hot!" you exclaimed after swallowing.
"Well duh," he rolled his eyes as he shoved another forkful into your mouth. "I just made it." You reached out for the glass of milk, but his other hand intercepted and picked it up for you. "You're sick," he said after seeing your expression. "Don't strain yourself, got it?" You nodded meekly under his glare, and allowed him to tip the cold liquid into your mouth. The process repeated, macaroni and milk, until there was no food left in the bowl.
The Dragon Slayer stood with the bowl and glass. "Feel better?" At your nod, he went to your kitchen to dispose of the glass, then walked back into your room. You gave him a pleading look, and he rolled his eyes. "If you really want me to I can come back. Tomorrow work? ...tonight?" Seeing your eager nod, he reached over to ruffle your hair. "See you then, kiddo." He kissed your forehead, then left with a small blush, closing your bedroom door behind him.
"Gajeel…" You coughed. "See you…" With a big smile, you closed your eyes and snuggled deeper into your pillow.