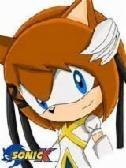 Starr's Nightmare...
Starr's P.O.V
I was sleeping peacefully in my bed while my sister Janelle was watching TV in her room. When I heard fighting downstairs and thought, "Are my parents fighting again?" I sighed and got out if bed walking downstairs with my Janelle who must've heard them fighting too. But when we got downstairs we didn't see mom, we saw a yellow and purple demon looking creature arguing while dad was on the couch with a gun in his hand. "Mommy?" I said as I rubbed my eyes trying to see of I was dreaming or not. "Darlings, I'm sorry you had to see that. Me and dad just got in a little fight that's all..." Mom said. "I have a gun! That's not a little fight!" Dad yelled still pointing the gun at mom. "You weren't actually planning to kill mom were you dad?" I asked. "He was...but...it wouldn't hurt me anyway because I'm immortal (I hope I'm using that word right XD). Sweeties I'm sorry if I've never told you this but...you're lives are now gonna change because...you are demons." Mom said.
I woke up almost screaming and those words echoed through my head. Then I curled up into a ball and cried. I cried because my mom and my sister Janelle disappeared, my dad is dead, and barely anyone cares! "Why does my life have to be so terrible?!" I yelled.