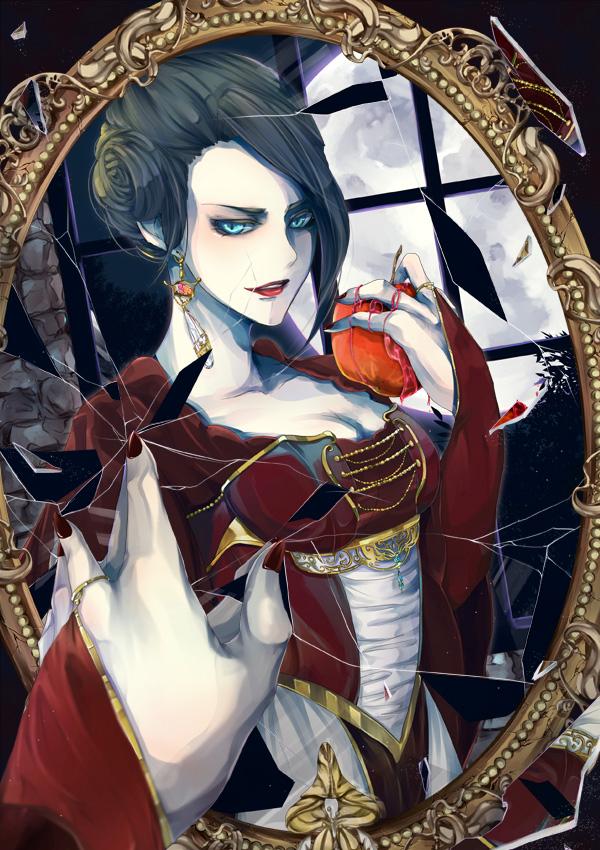 1: Morgana
~I pinned my hair up looking into the shining mirror. "Mother?" a little voice rang behind me.
I turned to the small boy standing before me his long hair covering his face and I gave him a small smile. "Yes, Titanius?"
"Am I going to be meeting father today?" His big, black eyes shone up at me.
I leaned down and brushed back his hair looking into his eyes. "Yes, my dear boy. You must be on your best behavior but remember what I told you, alright?" His hair shook with the nod of his head and I smiled. "That's my boy."~
The dream ended and my eyes opened to the refined wood of my canopy bed. Sitting up, I pulled back my hair smiling. Magistar laid spread out next to me, snoring his disgusting pig noise and I scowled. "Men." I grumbled and gracefully pulled myself out of the bed gliding over to the mirror. Humming, I picked up my brush and let it slip through my hair. The nauseating sound of my husband sleeping grated against my ears repelling me from the room. I sauntered into the queen's chambers and sat down in front of my personal mirror. A soft knock interrupted my peaceful song. "Who is it?" The same black hair from my dream slid in the door.
"Good morning, mother." Titanius said with a small bow.
I stood smiling at him. "Good morning, my dear boy." I moved his hair away from his eyes and kissed his forehead.
"Is father awake?" Titanius asked.
"Is he ever?" I hissed. I looked to my mirror again and continued prepping myself for the day. "The king is going to announce a ball tonight. You will be attending." I said matter-of-factly.
"But why, mother?" Titanius said exasperated.
"You will not take that tone with me, young man." I said putting in my earrings. I watched his face fall in the mirror then regain its usual emotionless gaze. "You will be attending to find a wife. It is time you had a woman by your side to control your behaviors." I watched his face carefully but saw no hint of emotion. I stood smiling sadly at him and touched his cheek gently. "Be happy, my son. A woman is the best thing a man could gain." I sat again not wanting to leave my chambers looking anything less than perfect. "Of course I will be choosing the women available to you but after that I will let you narrow it down to your top three." I looked at his face and when I saw no amount of happiness I turned looking coldly at my son. "Say something, Titanius. It is rude not to respond."
His mouth twitched then he slowly said "How generous of you, mother."
I looked at him with a pleased smile. "It is my pleasure, son." Again, I turned to my mirror. "You are dismissed, Titanius." I watched him bow and leave. I looked to the beautiful woman in the mirror and smiled deviously. "Men."