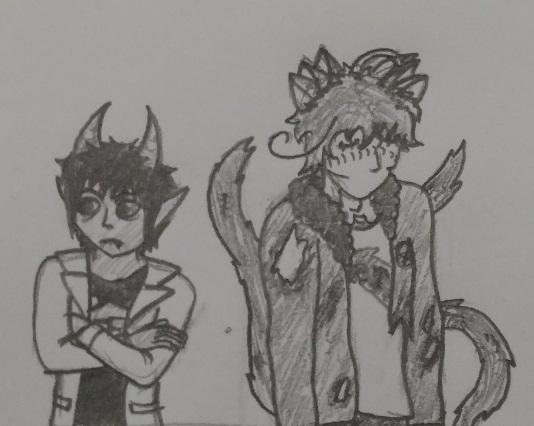 Quiet
Colorful liquids in beakers bubble, scattering the blinking lights from the odd machinery onto the gray figure before it. He adjusts a dial and glances at the liquid, making calculations in his mind. It is almost ready. Carefully, the dark-haired figured lifts a glass vial of fizzing, purple substance. Dropping a white tablet inside, the figure watches as the white fizz in the glass accelerates its rise and spills onto his glove and lab coat sleeve. The scientist realizes his error and, cursing, pours the contents of the vial into the machine with haste. The fizz continues to rise, up to the top of the machine's thin, cylindrical tank; it stops and inch below its mark and retreats back down.
"---- it!" Homestuck mutters as he tries to clean his coat sleeve in the sink. Hetalia, who was passing by the room, peaks his head in curiously, checking on his moirail. Homestuck wouldn't have noticed him if it weren't for the small taps Hetalia made on the door frame.
"I'm fine," he assures the brunnette. "Just made a mess is all; I'll clean it up." Hetalia nods silently and continues on his way to wherever he was going before: The scientist isn't actually sure.
The gray fandom laughs at his nerve to call himself a scientist. Sure, he wears a lab coat, owns a laboratory, and even has a monstrous henchman/assistant, like the old mad scientist cliche. Still, almost all he does are just powered-up grade school science experiments. ----, this Faygo is surprisingly hard to get rid of.
Homestuck shuts off his machine -- a glorified soda volcano at the moment -- and exits the room. Maybe he should visit- no, wait, she's gone. The SuperWhoLock freed her. The troll sighs as he thinks of Adventure Time, that pretty cartoon. He had kidnapped her almost a month ago; she had been kept in a spare room with a chain on her ankle. Yes, keeping a prisoner was fun while it lasted, but now everyone police or police-related is keeping an eye on him, so he can't play villain anymore. It's so boring…
...And quiet.
He walks through the empty hallways, unaware of where he is heading. His feet carry him forward, right, forward, stop, left. Where have they taken him? Homestuck looks through the doorway before him: Hetalia's room.
As luck would have it, all five feet and nine inches of the fandom is in there, sitting on the ground in the far corner. He's holding an ipod and fiddling with it, not looking at it, or anything at all. The song softly playing from the device has long become familiar to Homestuck. The marching beat seems to lift his spirits already; he can see why his moirail likes listening to these war sings so much.
The shorter fandom steps into the room, forgetting to introduce himself at the door. His feet continue toward the crouched figure as if they have a mind of their own. Homestuck crouches down in front of Hetalia and stares at his eyes. A brown tail is interrupted in its sweep across the ground by Homestuck's foot; the fandom it belongs to starts visibly as he is suddenly alerted to his friend's presence.
"Sorry, bro," The troll finally speaks up. "I should have said something sooner." He smiles -- a pointless gesture -- and pokes the tail that hit him. "It's just so quiet here, huh? Makes talk almost feel like a crime."
Hetalia tilts his head and raises a hand, signing letters. N, E, E, D, pause, A, N, Y, T, H, I, N, G?
"Just your company," Homestuck replies, silently thanking Kurloz and Meulin for his knowledge of sign language. Hetalia's ears bounce -- all six of them -- and his hand starts signing again. C, A, N, pause, D, O, pause, T, H, A, T. He seems to be smiling under that pale layer of skin. Homestuck purrs loudly. It's deliberate, fake, but hearing it seems to perk the brunette up. The song is still playing, wistful and metronomical. Hetalia's spidery fingers fiddle with the ipod, turning the music off.
"You don't have to!" the noirette protests. "It's too ---ing quiet in this building anyhow. But, then again, I guess you'd like the quiet, right? Helps you get around? Heh, I bet if you hadn't been listening to the music you would have heard me enter…" He trails off, suddenly aware of his awkward rambling, but someone has to fill the silence.
Hetalia stares blankly at him for a moment before turning the ipod back on. The singer resumes to the steady beat of the drums. The two boys sit quietly for a moment, awkwardly. Homestuck's gotten used to these silences; that doesn't mean he particularly enjoys them. He sighs and finds himself softly singing along.
"...My lily of the lamplight, my own Lili Marlene." Hetalia's bobbing his head to the music, and Homestuck feels a stab of guilt. His moirail used to love to sing. He was a good singer, too. Now he can't…
...and it's all Homestuck's fault.
Hetalia suddenly stands up, using Homestuck's shoulders to support his ascent. The troll also stands with some help from the taller fandom. The brunette's bony fingers awkwardly find their places in between grey ones, and he guides Homestuck out of the room. The webcomic allows himself a chuckle at the thought that that he's being lead around by the blind one of the two. Hetalia's tails constantly sweep the hallway as they walk, mapping out their surroundings.
"So…" Homestuck starts to break the silence, as the music stopped after Hetalia rose, "where are we going?" There's no reply. Of course there's no reply. The troll tries to reason their destination by watching their route, to no avail. "What is it?"
He gives up asking, letting that dreadful quiet return. The only sounds are echoes of their footsteps, breathing, and some kind of machine in the room they pass by. Sounds like a washing machine. Well, that reminds the troll of their location in the lab. Over a year living here and he still has to concentrate to properly navigate the place!
The silence is getting to him again; he's got to say something.
"Maybe we should decorate these halls some way," Homestuck suggests. "It might make it easier to figure out where we are. As it is, we're basically in a maze of metal, metal, and more ----ing metal. ----, I've already lost track of where we are again. How can you make it around so well?" This time, Hetalia turns his head toward the other fandom and shrugs. Well, at least Homestuck knows he's not ignoring him.
Suddenly, the taller fandom stops by a door. It takes Homestuck a moment to realize that it's an exit, though one he doesn't typically use. He barely notices the brunette open it. Homestuck winces at the painful creak the door makes, and then the bright light that suddenly meets his eyes. His moirail leads him through the door and onto the unkempt grass before stopping.
The troll slowly unsquints his sensitive eyes and sees that they are behind the lab, in a sort of backyard area. There's a lone tree off to the side, and the ground is covered in wild grass and weeds and flowers. The place looks like it hasn't been touched in years.
Perplexed, Homestuck turns to the one who brought him here.
"Wha-" hetalia slaps a malnourished hand over Homestuck's mouth, shutting him up. He removes his other hand from the troll's and moves a finger to where his mouth should be, then to one of his ears, then all around. Homestuck closes his eyes and listens.
The wind is blowing on the tree, rustling its leaves. A bird of some sort chirps in the distance. A bird closer by replies. Grasshoppers create a distinct twang as they launch themselves off of green blades. An insect buzzes by Homestuck's ear on its search for food or shelter or who-knows-what. The birds, the wind, the plants, the bugs, all making noise, blending into a natural orchestra.
The small fandom opens his eyes and looks at Hetalia, getting a distinct feeling that the older fandom is beaming at him, like he used to. He smiles -- still with the hand on his mouth. The brunette, feeling the change in expression, removes his hand and signs. F, E, E, L, pause, B, E, T, T, E, R?
"Yeah," Homestuck whispers, "I do."
He takes Hetalia's hand and silently listens. Seems this place isn't so quiet after all; he just didn't know where to look.
(Author's note: This takes place in an AU of my creation. Outside of the world, I refer to the Homestuck and Hetalia of this world as "Labstuck" and "Heinoustalia" so the people around me know specifically who I'm referring to. If you have questions about the AU, feel free to ask and I will explain.)