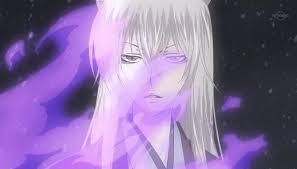 Finding Wild Foxes
Kagome's POV
I panted and looked behind me as I ran. The demon chasing me was still there! I turned and strung my bow, ready to use my second to last arrow. I sighted and pulled the string back, locking onto the fast-moving demon. My breath stilled as I got ready to release the taut bowstring. I channeled my power and my fingers uncurled. The arrow gathered an aura around it as it rocketed towards the demon. It pierced the head of the vile beast and I put my hands on my knees, trying to catch my breath. I shouldn't have told Inuyasha not to come with me to the well. The Tetsaiga would have been really useful against all of those demons that were after me.
"Are you lost, little girl?" A cruel voice made its way to my ears. Shit! I looked around, trying to locate the speaker. My gaze locked onto a bush nearby. I could sense someone behind it and I held my bow at the ready.
"Come out of the bushes! I know you're in there." The voice laughed and a silver haired fox demon stepped out. I gasped. He was even better-looking than Inuyasha! He stepped closer and I took a step back. His violet eyes bored into mine and I shivered at his coldness. He suddenly smiled and said, "Well, well. What is your name, dear? Mine is Tomoe." My brow furrowed. Why was he being polite?
"Mine is...Kagome..." He laughed. It was beautiful.
"Now that we know each others names, we can begin the fight." He enveloped himself with purple fire and his face was sad for a moment. Then he reverted back to his cruel self and launched himself at me.
My eyes widened and I raised my bow. I grabbed my very last arrow and placed a spell on it. The spell said that he would die if he attacked another human again. I shot the arrow and it seemed to spin in slow motion as it hurled towards him. It plunged into his shoulder and activated. He screamed with pain.
He shouted at me before disappearing into the trees, "I won't forget this Kagome! Not if it takes 500 years!"