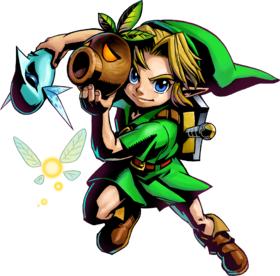 Link
Link is depicted throughout the series as an impressive swordsman. He usually begins his adventure as an average boy with little to no swordsmanship skills. When trouble arises, however, Link demonstrates a natural aptitude for the ways of the sword and is able to best his enemies easily: in The Wind Waker, Link goes to Orca to learn how to wield a sword in order to help Tetra from the Forest of Fairies. It is further noted by Orca himself that Link's ability to use a sword is firmly present in his veins. As the game progresses, Link becomes known for his swordsmanship as well as his ability to quickly adapt to a wide variety of items and skillfully wield them, such as the Boomerang, the Bow, and the Grappling Hook, among others.
In some games, Link can learn advanced sword techniques and complicated move-sets: in The Minish Cap, the Blade Brothers teach the young hero various sword skills by using Tiger Scrolls, and in Twilight Princess, the Hero's Shade shares his knowledge of the sword by teaching Link seven Hidden Skills to help him become more powerful and save Hyrule.
Additionally, Link is portrayed as having an excellent physical condition, performing backflips easily as well as being able to best others in sumo-wrestling, as seen in Twilight Princess. However, despite this, Link is usually defenseless without a sword or an item. This is depicted in The Wind Waker, where Link loses his sword after being launched into the Forsaken Fortress and must use his stealth abilities to get it back: if he is spotted by an enemy, he quickly surrenders due to his inability to fight back. Although in some games Link is easily able to pick up large stones or push blocks many times his size, other games require him to use special bracelets or gauntlets to further increase his strength, such as the Power Bracelet or the Titan's Mitt.
As seen in The Adventure of Link, A Link to the Past, and Ocarina of Time, Link is capable of using magic spells such as Din's Fire provided that he possesses a Magic Meter, which is usually granted to him by a Great Fairy.
Link is also talented in playing a wide variety of instruments. This is first shown in the original The Legend of Zelda, in which the young hero plays the Recorder to open up secret entrances or transport him to various parts in the overworld. Since then, Link has competently played other instruments such as the Ocarina, a pan flute, a guitar, the drums, and a Harp, all of which play a major role in each of the respective games in which they appear. Not only is Link a proficient instrument player: he is also adept in using a conductor's baton to conduct other players.