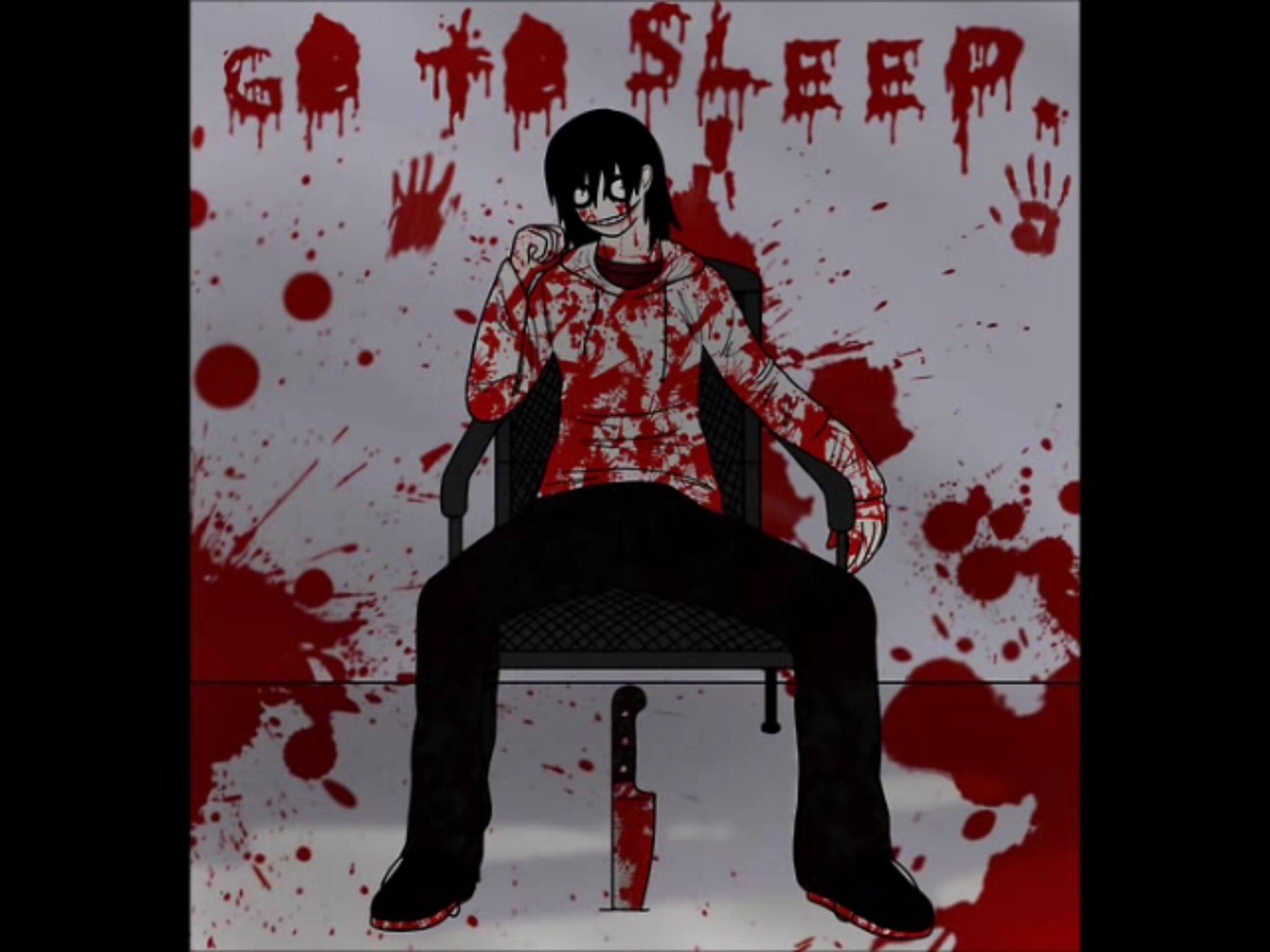 Jeff the killer
Your P.O.V.
You were home alone, watching the news when they said,"ominous killer, still at large. Suspects and survivors say he is terribly burned, and has jet black hair, a carved smile into his cheeks, and no eyelids. Be aware, lock your doors and windows, and stay with someone. Good luck.
'Ah, it's just a prank. It's a week from Halloween after all.' You think to your self, turning off the T.V.
"HEY, I was watching that!" A voice said.
You gasped and turned to see, the one and only, Jeff the killer.
"P-please don't hurt me!" You said terrified. Jeff was shocked.
"Jeez, after a few tasks, people think ill hurt them. I don't wanna hurt you, Y/N." He said.
You thought,'he is a Creepypasta, and my favorite'. At the thought of that, you started to fan girl a bit.
Jeff sighed angrily. "Great, the one girl I actually like is a total fangirl." You shook your head.
"I'm not going to jump on you, and rip your hoody and stuff." You told him, blushing. "I wanna be with you."
Jeff was shocked, then his smile widened, and he kissed you. You kissed back. This went on for about ten minutes, until you heard a car pull in the driveway.
"Crap, it's my mom!" You hissed, pushing Jeff upstairs and into your closet. "And don't do anything stupid in there." You warned him. You then ran downstairs to meet your mother.
Jeffs P.O.V.
You finally got the courage to ask the girl you liked before you became a Creepypasta out. You have done everything to make sure she new you were real, even though you could have gotten caught. Now, here you are, in her closet, listening to her talk to her mother. Her voice was like honey, sweet and smooth, and she had the most amazing eyes. You held your breath when you heard some one walking up the stairs.
"Jeff?" You heard Y/N ask. You exhaled.
"I-I'm here" you said. "How did it go with your mom?"
"She is not happy." She said, a little worried.
"I'm excited. My little girl got a guy! Come on out, I won't bite." Her mother said.
"I'm not sure you'll aprove of that ma'am." You told her. She scoffed angrily.
"Come out, now." She demanded. You listened, and came out to see your mothers friend.
"J-Jeff?" She asked. You nodded. She ran up and hugged you.
"Jeff, we thought you died with your family, but we couldn't find you or Liu."(Homicidal Liu, will show up in a chapter)
"Liu is alive?" You asked.
"We really don't know." She said sadly. You looked down, and felt a soft hand grab yours. You look up and see Y/N smiling at you.
Your P.O.V.
So, your mother came home and demanded you to tell her what happened when she was gone. She could sense lies, so you told her about Jeff, what happened, and that he was in your closet. She wasn't mad, just surprised and happy. Now, here you were, holding Jeffs hand, smiling at him, feeling the stare of your mother. She didn't push you two apart, yet, she called someone on her phone.
"Yes, yes, they are ready." She told the other person.
"Who was that?" You asked.
"His employer, Slenderman." She explained pointing at Jeff. He was shocked, and so were you. She then told you two to get in the car, and you went to the Creepypasta mansion. You soon arrived in the woods, and saw people and creatures you recongized as other creepypastas. Jeff gasped.
"It's him, it's Liu." He said pointing to a boy in a green hoody, wearing a white and black scarf, and cuts closed by stitches on his face. You saw others, such as Ticci-Toby, Clockwork, lost silver, BEN Drowned, eyeless Jack, laughing Jack, and others. You gasped when you saw Slenderman arguing with his younger brother Splenderman. You got out and was stopped by two boys that were twins. One had a white mask that had black eyes, penciled on eyebrows, and femine looking lips, had a yellow army jacket. The other one had a yellow hoody, a black ski mask with red eyes and a frowning mouth stitched on.
"I'm Masky, this is Hoody." Said the one in the mask.
"NicE To mEEt yOu." Said Hoody. He must have a robotic voice box or something.
"I'm Y/N" you said. "And I'm taken by Jeff" you finished.
Jeffs P.O.V.
You just arrived at slender mansion. Already, you saw people you saw before you became a killer, such as Tim, Brian, Benjamin, and Noah.(Masky, Hoody, BEN Drowned, and the observer) then you saw him. He looked just like he did before the "incident". He was your brother Liu, and he had cuts closed by stitches on his face, and was holding a knife. You remembered his screams when you tried to kill him. He must have just passed out. You were going to get out of the car with Y/N, but you heard Tim hit on her with Brian. She then told them her name, and announce loudly, that she was with you. You smiled, and walked up to her, and held her hand and guided her to your boss.
"Ah, I see you have returned, child." Said Slenderman in a polite British accent. You nodded.
"And he brought a girl!" Exclaimed Splenderman.
"And she's mine." You warned. You then went into the house, and watched horror films for the rest of the night.
"Jeff?" Y/N asked.
"Yes Y/N?" You answered. She hesitated.
"How did you know my name the first time?" She asked. This was it, time to tell her how you knew her when you two were younger.
"You really don't remember? We knew each other when we were in elementary."
A/n
Sorry if it is rushed, I am new to making stories. Tell me the good thing about it. Up next, BEN Drowned! See you there my fellow proxies.