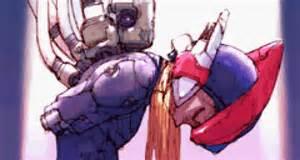 The Awakining
X.....I have been sleeping for a long time.....I'm still sleeping. Even know, I'm dreaming about you, wondering, where are you, old friend. I have been resting for so long, my memory is fading...X........no...I can't forget you.....X...
"There's no time Ciel!", Milan shouted,
"I won't leave until he awakens!", Ciel shouted back.
"Gaaaah!", A soldier cried,
"I'll cover you miss Ciel, but take cover!" Milan screamed, "The X droids are closing in...! Graaah!"
"It's protected with a force field....what am I going to do...?" Ciel asked herself.
"Use my energy, Ciel...."
"...! Passy!" Ciel gasped, "But you're a Cyber-Elf, once the data is used, your data will deteriorate! I wont use you!"
The wall blocking the inner ruins is finally shattered, and a faint marching can be heard, and droids with a cycloptic laser eyes are seen faintly glowing...
"There's no time! Hurry!" Passy said,
"...Alright...thank you passy, and good bye!" Ciel said as she cried,
"Good bye Ciel..." Passy cried back,
Zzzzzaaaap! The force-field vanished, and a figure slowly steps out....
"Please....help me, Zero....!"