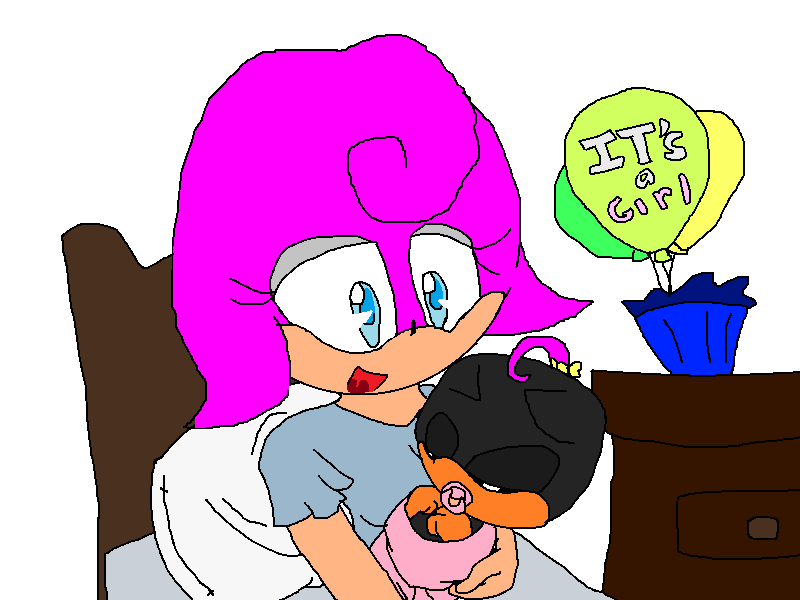 Birth
Baby: WAA WAA!
River: *Holds Marbles* Shh.. don't cry angel, mommy's here. *Kisses forehead*
Baby: *Snuggles River's check* Kiki!
River: *Twists small string of hair* Aww, my little angel is talking, Charles look!
Charles: *Pats Baby's head* She's so peaceful. *Sniffs* But she doesn't SMELL peaceful. River change her diaper! *Claps 2x*
River: *Hands Baby to Charles* I just gave birth. You change.
Charles: *Holds Baby* Ehhh, hello! *Places on table* Now, first we take off the diaper, *Takes off Baby's diaper*, then we-
Baby: *Pees on Charles* He he he!
River: *Giggles*
Charles: *Wipes face* It's not funny!
River: It is, Charles. My angel finds it funny!
Charles: Is that what we're naming her? Angel?
River: I don't know.
Charles: *Strokes chin* Hmm, how about Mary belle?
Baby: *Snarls*
River: No, my grandmother's name was Teresa! How about we name her Teresa!
Baby: *Spits on River*
Charles: HAHAHAAHAHA, Roberta is WAY better! HAHAHAHAHHAHA!
Baby: *Pukes on Charles* BLUHGHGDU (Try to pronounce that XD)
Charles: *Wipes face* eww! *Picks up a circular ball* GROSS! Is that a MARBLE.
River: IDEA! How about MARBLES!
Charles: Marbles?!!?
Baby: *Laughs and claps x4*
River: Marbles it is. *Smirks*
Charles: Ugh! That's SUCH a TERRIBLE name! What kind of name is MaRbLeS?!!?
River: What kind of name is Charles
Charles: What kind of name is River?
Marbles: Muh- me- muft-- mama!
River: MAMA!
Charles: Mama?
River: EEEEEEEEEEEEEEEEEEEEKKKK >//__ //<
Nurse Abbey: *Peeks through the door* Phew! None of you are hurt! Phew!
Marbles: Babby!
River: Aww! Abbey she said your name!
Nurse Abbey: Aww!
Charles: Aw c'mon! She said "mommy" and "Abbey" and she hasn't said MY name!
Marbles: Dwaddy!
River and Nurse Abbey: AWWW!
Charles: *Hugs Marbles*
River: *Takes photo* Aww! I'm gonna pin it!
Charles: *Blushes*
Nurse Abbey: River, have you decided what you are going to name her?
River:*Nods* Yes.
Nurse Abbey: I'll get her papers. *Rubs Marbles head and leaves the room*
Charles: *Sits on the edge of River's bed* She's beautiful.
River: *Puts arm on Charles shoulder* Yeah.
Charles: She looks just like me.
River: *Playfully slugs Charles*
Charles: *Shyly kisses*
River: *kisses back*
Nurse Abbey: *Comes in* Alrighty! Here are her- oops! I didn't mean to "interrupt" you two.
Both: *Stops kissing*
River: oh, it's okay. Here, let me see those papers.
*After River signs the papers*
River: Phew! Glad that's over with! *Rubs wrists* Ow! My hands hurt from writing!
Charles: Now you know what it's like?
River: It sucks!
Charles: *Snorts*
Marbles: *Falls asleep on Charles arm* ZzzZzzZzzZzz...
Charles: *Places Marbles in crib* Sweet dreams Marbles, sweet dreams.
Ah, the good old days. I had my arms,
I had my wings. But that all changes
now. It all changes Now.
Hello! I worked hard on this story! It was hard to draw the pictures as well.
We have no idea!
Anyways.
What happens in the next chapter,
Marbles is 9 years old now, it's her
birthday. She's having an amazing
party. Until, the candles are blown.
A mysterious man in a mask is in
the house somewhere. Watching
you, smelling you, touching you.
And it all happens now.