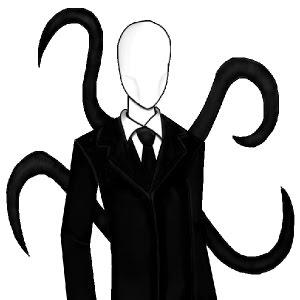 Slenderman Poem <3
Walking in the woods at the night,
With the moonlight shining bright,
That was when I saw you,
and it was just too good to be true.
I was leaning against a tree
as you were walking over towards me.
I felt the heat increase on my cheeks
As you, the creepy pasta, began to speak.
You took my hand in yours and said, "Don't be afraid"
And that was when the blush from my cheeks began to fade.
I smiled at you, and hoping you would return it,
But I forgot you had no face so you couldn't.
I took a step closer to you and smiled
and asked if you would stay with me for a while.
You stood still for a minute
Then agreed to it.
With my hand still in yours
We then entwined our fingers
We walked hand in hand for a while
And just being with you made me smile.
I began to grow feelings for you over the past few weeks,
And I hoped you felt the same way with me.
But if you didn't, what was I suppose to do then?
Just remain friends and act like any of this never happen?
You led me over to a meadow
Surrounded by flowers that were purple and yellow.
You then told me, "I've been wanting to show you this for a while now."
You then let go of my hand and said, "I've been wanting to tell you something, but I didn't know how."
A smile came to my face as I knew what you were going to say.
You didn't have to say anything because I already knew anyway.
I walked up to you and wrapped my arms around your neck,
then kissed the spot where your lips would be, but not a long kiss, just a peck.
I felt your arms wrap securely around my waist
Then you cupped my chin to make me look directly at your face.
You asked, "How did you know what was I going to say?"
I giggled and said, "Because Slendy, I feel the same way."
Suddenly, a mouth began to form on your face
And I felt my heart quicken it's pace.
You smiled and stroked my cheek,
then you began to speak:
"Stephanie, I love you."
I returned the smile and said: "I love you too."
With our lips locked, and our fingers entwined,
I knew now I was yours, and you are mine. <3