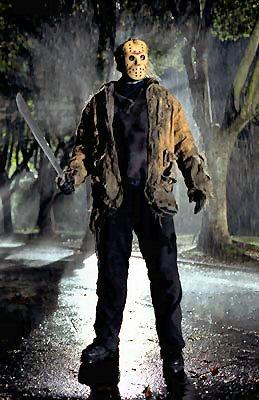 Jason awakens
It started at the infamous Crystal Lake. It was a dark and stormy night, and there was a girl running through the woods as fast as she could. Behind her was a man in a ball cap and a knife. He was chasing her with the knife, trying to kill her. The girl ran out of the woods towards her cabin. The man was able to catch up and tackle her. He held the knife to her throat and smiled.
"Time to die, you little-"
He was cut off when a large machete cut through his throat from behind him. His head was cut off this body. The man's body toppled over and there stood a man in a hockey mask. The girl looked in horror as the man stabbed her in the gut with the machete. She died as her blood splattered all over the ground.
The man was Jason Voorhees. His reputation for being a killer was talked about alot. Jason looked at the body of the man and noticed a piece of paper in his pocket. Jason reached down and pulled it out.
It was a paper on a town known as Silent Hill. Jason read the paper. It said in one spot "Most deadly place on the planet. Do not go if you wish to live. Town of ashes is five times scarier than the legends of Crystal Lake."
Jason did not like what it said and vowed to take care of Silent Hill. Jason looked around and saw an SUV parked by the cabin. He took the paper and his machete. He got in the SUV and started it. He then actually drove out of Crystal Lake in search of the town called Silent Hill.