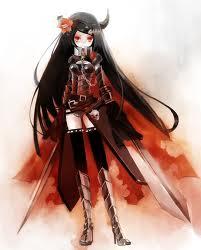 Nightmare (My character)
Nightmare—Age: 20
Description: Sarcastic, nice, challenging, short (just over 5 feet tall), smart, sneaky.
Looks: Black hair with red highlights that goes down to her waist, wears a black and red dress and black ninja sandals, her forehead protector is at her waist, with her sheaths and kunai pouch.
Weapon of choice: Double swords, which she uses whenever she can.
Skill: Genjutsu- 10. Ninjutsu- 8. Taijutsu- 5.
Other Information: She was born to be a killer. Her father trained her nonstop and made her great. However, he made her TOO great. One day, he angered her and she obliterated her entire village. She ran away and ended up in the Akatsuki. She has been there since she was 12.