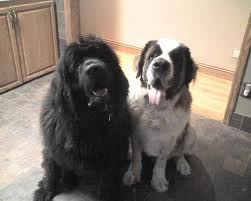 Kico and Charly
When Riley arrived I was playing around in the dog house with Kico the Saint Bernard and Charly the Newfoundland.
They little rascally puppy bounded in and started snuffling around my knees.
Kico stood proudly by my side but Charly started playing around with the puppy.
I kneeled down beside the puppy and scooped him into my arms.
How could somebody leave an adorable little puppy in the streets.
Especially a little 10 week old white golden retriever puppy!
I used the whistle around my neck to send Kico and Charly into their pens.
As I walked into our little cottage with the little puppy.