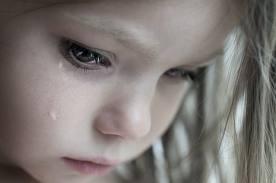 Marissa
I crouched down and picked up the scattered toys on the ground. I smiled seeing how one of the girls, most likely, had drawn lashes and lipstick on an action figure. I put them all away in their correct places and turned to gather the next things. As I leaned down, I heard a soft voice say "Mrs. Caroleena?" I looked up shocked to hear a voice. In the door stood a little girl crying.
"Marissa?" I said. "What are you doing here?" I went over to her and hugged her.
"My parents don't want me." She whispered sadly.
"Oh, Baby, don't say that." I said stroking her hair. "Where's your parents?"
"They didn't come." She mumbled.
"Did you call them?" I said trying to soothe her.
"There was no point." She started to cry harder.
"Oh, come on now. Let's go call them now." I took her hand and led her to the front desk. I punched in her mother's number. The phone connected.
A rough female voice answered, "Ello?"
"Hi, Mrs. Johnson. This is Mrs. Caroleena and we have your daughter, Marissa, here."
There was an uneasy pause. Then gruffly she responded, "I don't know no Marissa."
"What? She's your daughter, Ma'am."
"I don't know no Marissa! Goodbye now."
"Ma'am?" I paused for a response. "Hello?" But no one responded. I looked weakly at Marissa and faked a smile.
"She doesn't want me." Marissa cried trembling.
"It was probably a wrong number." I said lost but she knew it wasn't the wrong number and started to sob. "It's ok! It's ok! Shhhh, shhhh." I kneeled down. "You-you can stay with me tonight." Her sobs slowed. "Come on. Do you have all your stuff?" She nodded and wiped her eyes. I took her hand and led her to the car. Buckling her in I made sure she was comfortable. I started up the car and drove out of the school. "So how did you not get noticed by any of the teachers?"
"I hid in a locker..."
My eyes widened. "How did you get out."
"There's a little latch you can pull up."
"How do you know that?"
"A lot of people like to put me in their lockers." She said matter-of-factly.
"Who's been picking on you?"
"The older boys" she said. I decided to stop interrogating her. The rest of the car ride was silent other than a muffled sob from Marissa. We pulled into my apartment building and I took her hand. "Is this your home?"
"Yes." I said getting my keys out.
"It's so nice." I looked to her a little surprised but she was completely serious. I found the key to my flat and let us in. She came in with an expression that looked almost like awe. I looked at my home, it wasn't like I didn't love it but it wasn't exactly glamorous.
"Are you hungry?" I said hanging our coats on the rack. She nodded feeling one of the fuzzy pillows."What do you want to eat?" She shrugged. I looked in the fridge for something a kid would want. "Grilled cheese, uh, PB&J, how about hot dogs?" I looked at her and smiled weakly. "You want ice cream?" Her face lit up and I brought out a big tub of chocolate ice cream. I handed her a spoon and she dug in. After eating half the tub she leaned back and held her stomach. "Your tummy hurt?" She nodded but smiled. "Well it's bed time for you." I said standing.
"But, Mrs. Caroleena I haven't done my homework."
"Don't worry, I'll tell everyone what happened. Now, let's get you in bed." I picked her up and carried her to my bed. She crawled under the covers. I tucked her in, kissed her on the forehead, and started to leave. "Good night."
"Mrs. Caroleena can you stay with me?" Marissa said softly.
"Of course, Honey." I sat next to her and wrapped my arms around her. She snuggled up against me and slowly drifted off into sleep. I stayed really still until I eventually dosed off too.