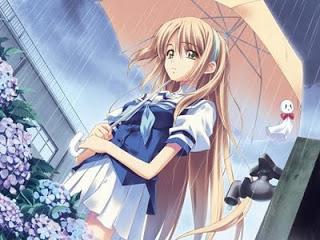 Another Day
Rain hit my umbrella roughly as I walked down the concrete sidewalk. Walking on the side walk, I felt my black flat shoes getting wet as my blonde hair blew in the cold rain. I was not in no rush to make it to school. All semester, I have been bullied by the prettiest girls in school. I was being called ugly, trash, a waste of time, and what ever else they could think of. I am not sure what I did to them, but they were evil for all I can tell. Finally, I made it to Timber Hills High School. Being a sixteen year old with no car was not a very happy time. I walked to school every day. Entering the black fence, the building of the high school was tall with three floors. The building was pure white with Timber Hills Wolves on the front of the building. Walking through the door, I undid the umbrella and ran my fingers through my blonde long hair. Holding the umbrella, I walked down the hallway. Lockers were beside each other on the walls. Making it to my locker (34), there was a note taped to my locker. I was afraid to read it, or who it was from. Grabbing the white note, I slowly opened it.
"How was your walk in the rain? I hope you enjoyed it instead of riding in a car. Next time give me a call." signed anonymous. Glaring at the note, I began to become confused. Who was being so nice to me? I mean my friend would of told me if I wanted a ride. Opening my locker, I placed my umbrella in the back and grabbed my English 2 book and purple binder. When I was about to shut the door, a big bang came from the other side of my locker. Looking behind my locker door, I saw a black short haired girl with green eyes and wearing a white and green school uniform like mine, but mine was blue and white. My brown eyes stared at my best friend smiling ear to ear.
"What you do that for, Kim?" (Me)
"You looked a little tired, so I woke you up!" (Kim)
"I was not tired." (Me)
"Who cares. I put a little smile on your face." (Kim)
After Kim said that, she grabbed my wrist and began checking my wrists. When she discovered there was not cuts, she smiled and pulled me to my next class. Kim is over protective over me especially when I cut. I try not to, but these girls here are horrible. They make me feel more worthless than I already feel. Walking into the room, there were four rows of five desks. In the front rows were the jocks. They had on their school uniforms with their leather ball player jackets on. In the next row were the popular girls. They wore their uniforms too high, wore neon colors, and a lot of makeup. They could pass off as clowns if they wanted to. The third row was the nerds. They wore dark clothes and always had books around them, but they were amazing to talk with. Finally in the back row was my friends. We wore whatever we wanted and normally did not talk in class. Walking past a jock, a foot stuck out and tried to trip me. Glaring down, I stepped over the foot and glared at the brown haired blue eyed girl. She has on a neon pink school outfit and was coated in makeup.
"Nice try, Jennifer." (Me)
"Go to the back with your other pieces of trash, loser. No one is talking to you." (Jennifer)
Walking past Jennifer, I rolled my eyes. Sitting down, I sat down beside Kim and a empty desk. Sitting beside Kim was Robert. Robert's black short hair was brushed perfect with his blue eyes staring at me. Robert is very athletic, but he does not like hanging with the jocks. The jocks were just they the popular girls, and Robert did not like either.
"You look a little wet there, Haven." (Robert)
"Shut up." (Me)
"You know we can drive you to school." (Kim)
"I know, but I like to walk." (Me)
In the front of the class was a long brown desk and a white marker board. Coming through the door was a black haired green eyed older woman wearing a lose blue dress. Ms. Hodges stood in front of our class with her hands held together.
"Good morning class. I have wonderful news. We have a new student. Dakota, please come in." (Ms. Hodges)
Walking through the door was a brown haired boy with sparkly green eyes. His hair was combed to the right and curled at the ends. With his muscles poking out, his black long sleeve jacket showed all of the muscles on his arms and chest. His tan skin radiated off the light hitting him. After he walked in, one of the popular girls whistled, and Ms. Hodges stared at them with her evil look.
"This is Dakota Michael. He is in the tenth grade like all of you. Now who is going to show Dakota around? How about...Haven!" (Ms. Hodges)
"I do not think she should show you around. You might get some of her loser cooties on you." (Jennifer)
"How about you stay in here during break, Jennifer. Dakota, go to the empty seat by Haven." (Ms. Hodges)
While Jennifer was complaining to her stuck up friends, I noticed Dakota walking towards me. I looked down at my desk making sure I would not make eye contact. Turning my head to Kim, I saw her give me a thumbs up. My pale face got flustered. As Ms. Hodges was lecturing one of the jocks about grades, Dakota poked my shoulder.
"You do not have to show me around if you do not want to." (Dakota)
"Oh uh I do. I I really do, but its not cause you are cute or anything. Oh I mean uh it is um." (Me)
Laughing, Dakota said, "Do not act like that. Just think of me as your friend."
"Oh. Ok. I will try." (Me)
"Why are your shoes wet?" (Dakota)
"I walked to school." (Me)
"If you ever need a ride, just call me." (Dakota)
"I do not have your number.."
Then, it hit me. Could Dakota have put the note in my locker? As I was thinking, a spit ball hit me in the face. Taking it off my face, I glared at the girl who spit it at me. Her orange wavy hair floated on her shoulders while her brown eyes stared at me. With her skirt pulled up, her neon blue school uniform tried to show the curves she did not have.
"Now do not add that to your trash collection. Why don't you go sell it to a hobo? It might give you a little money to pay for your brother's hospital bills since he is about to die. It should be you instead of him." (Orange haired girl)
"Hanna!" (Ms. Hodges)
"What, teach? David is going to die! No matter what her pathetic self does." (Hanna)
After hearing that, I stood up from my seat and ran out of the classroom. Running through the hallway, I was telling myself David was not going to die. Opening the girls' bathroom door, I sat in the corner with my body wrapped up in a ball. As tears ran down my face, I held myself tightly with pain in my chest.