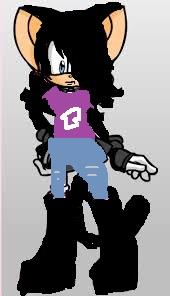 Daliah
I ran downstairs to tell my friends about the wild dream I just had. "You guys I just had the most weirdest dream ever." I said. "Cool do tell." Sora said. "There was a black hedgehog..."
"Stop there. She was wearing a scull shirt wasn't she?" Socue asked. "Yeah. How did you know?" I asked. "That's Daliah." Socue responded. "So what about the dream?" She asked. "Well anyways... she said to prepare for the frost, Frost. I have no idea why she said frost twice. Then everything caught on fire and I couldn't breathe." I said. "This is bad very, very bad Wire." Double said. "Why?" I asked. "Your name before you changed it was Frost and you have ice powers which you already figured out."
"Frost, my name is Frost.... WHY DIDN'T YOU GUYS TELL ME BEFORE!?" I screamed at them. "Because you seemed to like the name." Double said. "What's with all the yelling?" Knuckles asked. "My so called friends didn't tell me that my true name is Frost." I snarled. "YOUR NAME IS FROST!?" Knuckles asked in surprise. "Yes." I replied. I was so mad at my friends for something so stupid that I stormed out pondering over my dream. "Hey Wire where are...."
"My real name's Frost, Silver." I snapped at him. "Oh, well I like that name too." He said. "You look troubled, is everything ok?" He asked. I didn't get it why is he so nice to me. "No Silver I'm frightened an old enemy is going to hurt me." I responded. "I just wanna be alone right now ok." I said. "Ok." He said. He walked back inside. "Well, well, well," I turned around to see her....Daliah. "Daliah long time no see." I said. "Exactly." She said. "I hope you that I still hate you." She said. "I'm awa...." Before I could finish she punched me right in the stomach. "Time to feel the burn." She said. She pushed me down and stomped right on me. A blaze of fire light from her hand. I was ready to feel the stinging pain of fire. I did I felt it, fire surrounding me smoke getting in my lungs I choked I gagged. I tried calling out for help, but I felt my eyes shutting. I am truly dead now she got what she wanted.