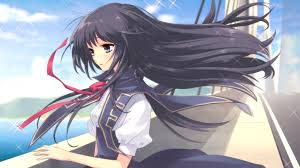 Kate Tasty
Kate leaned against the railing and looked out onto the ocean. This was her first time on a yacht, a private one at that. She wore a black dress and held a glass of punch in her hand. she could hear the music from the party indoors. Looking to the side, she saw a boy walking towards her. 'Here we go again,' she thought. First of all, you're probably wondering who Kate is and what she's doing on a private yacht.
Kate's father is named Roger Adams. He enjoys baking and even owns a popular bakery. It is called Tasty Bakes. He loved the shop and even changed his last name to Tasty. He married Marianne Resone, a woman he met during work when she had come to pick up a cake for one of her friends. They soon had a little girl, Kate Tasty. Kate only has one friend, Sally Buenard. They had been BFFs for as long as they could remember. The Buenards are a very rich and successful family, and they owned the yacht Kate was on now. Sally had invited her to go on a cruise with her and many other friends of theirs. Kate doesn't know most of the people on the ship, but she enjoyed herself either way.
The boy stood next to her. "Would you like to dance with me?" he asked. Kate looked back out at the setting sun. "Not really." The boy leaned against the railing next to her, looking out at the sun sinking into the Atlantic. "Beautiful, huh?"
"Yup."
"Oh, the sunset's pretty too." Kate let out an exasperated sigh. She couldn't help her good looks, and she didn't mind them, but they got annoying. Guys were hitting on here left and right. If they were insects, she must shine really brightly. She turned around. "Excuse me," the girl said, walking towards the refreshment table. She couldn't stand it. Why couldn't they just leave her alone? If not, then why couldn't the actually cute guys be attracted to her?
"Hey Kate! Enjoying the party?" she heard a familiar voice call. Kate looked up to see Sally walking up to her.