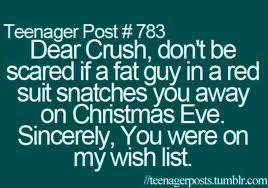 The first thing to come
"Gracie wait up" Miranda called out to her bubbly friend Grace. "I have something to tell you. It's so exciting! You know Brandon, the guy I've totally been crushing on! He just asked me out to the movies!!!"
"That's great. This is like a typical bestie moment. We should totes jump up and down and scream like they do in movies!" Grace idolised.
"Even better I think this calls for a celebration sleepover. Are you free tonight?"
"Sure sounds great, I'll meet you at your house after school, ok?"
"Yeah. See you then" and Miranda strolled off to her next class.
Miranda had dreamed of this day ever since she could walk, ok maybe not that far but it had been a goal of hers for many years. Brandon was the typical hottie/sweet talker. He knew what girls wanted and all of his girlfriends had been his number one. When he had a girlfriend he would make his schedule up surrounding her and what she wanted. If she wanted space he backed off, if she wanted to be with him he would pretty much cancel everything he could to be with her. He made each date he went on with his girlfriends different and exciting depending on what he found out that she liked, however the first date was always the movies and then a stroll along the shops. Miranda was in for the first date of her dreams.