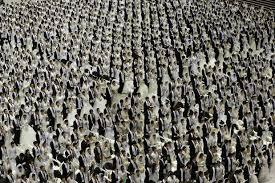 The Selection
As still as I could, I stood in the perfect line. I tried not to appear as though I was looking around but I couldn't help myself. The short man walked down us slowly, ever so slowly clacking down the room. His long coattails whispered behind him with every step. Every time he passed one of us he would choose our fate for 9 years. He would snap his fingers and two men would escort you away to a chamber. This only ever happened to girls because they were being sent off to the king. Or he would pull you out of the line than basically throw you to a large gate. This was for the boys who would be sent to work at various places. Last and definitely worst, he would signal the guards to escort you out. If this happened you were cast out of a good future.
The man was 4 people away from me now. I had been near the end so I knew his exact process. He would look you up and down, stare into your eyes, and then make his decisions. A few people he didn't even need to look at and just made his decision right away. My focus snapped back to him when I heard a strange sound. A voice. It belonged to the short man. "You, boy. You've been educated! Am I right?" He nodded curtly. I had noticed him before. There was a lightness, an airiness about him that drew attention to him. The man laughed "So you have! Right this way, sir." He elegantly led the boy away through a pair of double doors. No one spoke but you could feel the tension in the air change.
A new man entered. He was tall and lean but there was something sadistic in his face. Maybe it was the blackness of his eyes, hair, and bushy eyebrows. I paid no heed to these strange characteristics. I was too focused on his choices. He without a glance sent the next boy away with guards. Again without a care he sent the very--- buxom girl next me to the chamber of the king. Now it was my turn. I stood stick straight and tried to force pride and confidence through me. I felt completely idiotic. But the man stopped in front of me. He turned on his heel and stared at me. His eyebrows rose making his eyes appear to be black holes in his skull. Suddenly a piercing pain cracked through my head. It felt like a hammer crashing against my skull over and over! I forced all my strength into my head and tried to protect myself on the seemingly harder-hitting hammer. Then it shattered into jagged splinters that drove themselves into my brain. But the pain had died down now to just a throbbing headache.
When I came out of my shock, I looked at the man in front of me. Blood was running down his face out of his nose. The guards were poised in action-ready stances. But I stood erect. As stick-like as I had been before. With wild eyes the man grabbed me and threw me to the gate. I stumbled out into the open air and stood before a cart. It was filled with boys now all chattering with pride. Their identical white suits were dirtied by the grotesque carts. Confused and aching, I staggered to the cart. I heard my white slip tear underneath my feet as I hopped up onto the cart. I stayed silent not wanting attention to be drawn to me. The cart lurched after a few minutes causing me to nearly fall off. I watched the dismal palace disappear behind the growing hills. I did not want to cry. I did not want to show pain. It would show I failed somehow. I turned my back on the castle. That's when I noticed the strange boy staring me down. "You're not a boy."
"Great observation, bucko." I snapped. All eyes turned to me. "What? Never seen a girl before?" I was not in the mood to be made fun of and I was not afraid to make that known. The boys stared at me startled but soon went back to their conversation. Except one. He was still staring at me. "Move your head, your eyes are stuck." Even though I meant for it to come out as a growl it came out as whisper.
"I've never heard of a girl going to The Works before. Why are you here?" his voice sounded strained even though he seemed fine.
"That's what I'm wondering."