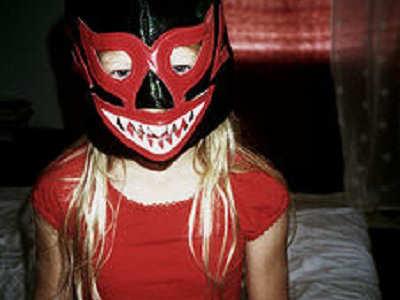 The Girl In The Mask
There was a little girl called Holly who had just turned six years old. One Halloween, her parents decided to go to the movies to see the new horror movie that was out! They had trouble finding a babysitter and eventually called a teenage girl called Jessica who lived down the street to look after Holly for the night. Jessica agreed.
When Jessica arrived, Holly's parents gave her their phone number, "Call us if there is an emergency!" said the mother, and they both set off to the cinema.
After they'd left, Jessica gave Holly her dinner and went to go and watch some TV.
After Holly had finished eating, she asked Jessica "Can I have some dessert?"
"Sure!" Replied Jessica, smiling. "What would you like?" She questioned, walking over to the kitchen.
Holly giggled. "Ice cream please!"
Jessica looked around in the fridge but found no ice cream whatsoever.
"It's not in here!" She told Holly as she closed the fridge door.
"It's in the basement!" Holly replied, pointing to the door beside them.
Jessica sighed, but opened the door anyway. It led to a flight of unusual looking stairs. Jessica reached for the light, but it wouldn't switch on. Despite that, she headed down the staircase with a torch in her hand as it was now very dark.
Once she'd reached the freezer, and has fished the ice cream out of it, Jessica looked up, and saw a window opposite her. She jumped in fear, a tiny little girl was standing by the window, with her back facing Jessica. She seemed to be wearing a red shirt and some kind of black object on her head. Jessica calmed down, it was Halloween after all! Alot of kids were wandering around the street in their costumes.
Jessica brought the dessert upstairs and poured the food into a bowl for Holly.
"Can I have some chocolate sauce and sprinkles too please?" Holly asked, giggling innocently.
Jessica sighed again. "Where are they?"
"In the basement." Replied Holly, giggling again.
She continued her journey down the wooden hill again, rooting in the freezer for the items.
This time, once she looked up, the same girl was at the window. This time, she was facing Jessica and Jessica could see she was wearing a black mask, with red on it and sharp white teeth. It gave her the creeps but she just shrugged. It was probabley part of her costume.
Jessica added the items to the ice cream once she returned to the kitchen.
"And just a cherry to finish it off?" Asked Holly again. This time she was practically on the floor laughing.
"Fine!" Jessica answered. "Do you want anything else? This is the last time I'm going down!" Holly shook her head.
Jessica grabbed the cherries and was just about to leave when she decided to check the window again. This time, the girl held a giant knife in her hand. Jessica almost screamed, but decided it MUST of been part of her costume. Though, what kind of parent would let their daughter wander around aimlessly with a knife? Jessica shrugged it off and headed back upstairs.
When she reached the kitchen, Jessica saw a sight that made her stop dead in her tracks. She broke into a cold sweat and a wave of pure fear washed over her.
There, with their head in the bowl of dessert, surrounded by a large pool of blood, was Holly, a sweet innocent young girl. Jessica screamed, collapsing to the ground.
once she had gained enough will power and energy to get up, she dialed 911 and Holly's parents screaming at them to get here as fast as they could.
Once the police took Holly's dead body away, Holly's heartbroken mother turned to Jessica and asked "What happened?".
Jessica shook her head. "There was a girl...with a knife, in a mask..outside the window in the basement...she must have killed Holly!" Sniffed Jessica, trying not to cry.
Holly's mother and father both looked confused. Then, Holly's father stepped forward and said quickly and in a daze,
"Jessica, that's impossible! We don't have any windows in our basement, we only have mirrors!"