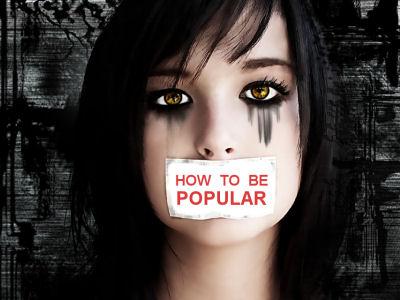 How To Be Popular
Have you ever wondered how to be popular in middle school or high school? It's not that easy. Sarah Butler was the most popular girl in my school, and since I was new she took me under her wing.
It was a normal Monday morning for most people at Attichson High, but for me...It was a terrifying thought to even step foot into that place.
I was the new girl, you see. I had no friends, didn't know where to go. I just followed everyone else to their classes. When I sat down, I noticed a tall blonde girl staring at me from her seat about 3 rows away.
I stared back for a second or two, but then shrugged it off. It was no surprise that she was popular, she was the most beautiful girl in school.
She spoke politely, had a winning smile, was a very wholesome person, and most of all...she was smart so she knew how to manipulate people.
Suddenly, I heard the familiar sound of 'clip clip clip clop' and wasn't all that shocked to turn around to see this girl smiling at me.
"Hey, I'm Sarah Butler!" She told me, smiling from ear to ear. "But I'm sure you already knew that."
Grinning, I shook her hand quickly and replied, "Hello, I'm uhm..Heather Worthington."
"Nice to meet you!" Sarah answered, skipping the handshake and giving me a quick hug.
It was the best feeling I'd had up to that point. We actually became best friends and we did everything together!
We were known as The Most Popular Girls in school and everyone respected us and feared us. We felt on top of the world!
That was..until 10th grade. It started off with one girl, then it was two, then two became 10.
Eventually, we were the most Unpopular Girls in school! Everyone made fun of us, they ridiculed us. Sarah was so depressed nowadays, her hair was no longer bright blonde and bouncy, it was dull and lifeless. Her beautiful pale skin and bright blue eyes had faded and sagged just like her mood.
Until one day, the most popular girl in school, Hannah DeLozes went missing. It was an awful time for everyone. The teachers made a little shrine to Hannah in the hallway when she was missing for 6 months. We kept her spirit alive, but by 11th grade we'd all forgotten her. Sarah did not shed a tear through this ordeal, she did not mourn in Hannah's memory, instead she laughed, she smiled, her bright hair and eyes and skin were back to normal.
Many other girl's won the crown of Popular, but they all disappeared without a trace.
After the 5th girl went missing, nobody dared to try and win that crown.
Soon enough, I found myself speaking less and less and less to Sarah, and I got some new friends. Jordan, Poppy, Kyle and Emily were my best friends now.
Later on, I'd decided to throw a party at my house while my parents were on a 'romantic weekend'. It was the most fun I'd ever had. Music blasting, drinking pouring, people laughing and having a good time.
It was a positive alternative to comforting Sarah all the time.
When the party had ended, and my friends had left, Sarah showed up and apologized for being so hard to deal with and crying all the time.
"It's okay." I replied, hugging her. She was smiling and she was happy again. It was just like old times!
"Just gonna nip the loo." I told her, as I crept up the stairs. However, as I opened my bedroom door to get to my en suite, I saw a dead body sprawled across the floor, their face had been sliced off and a look of pure horror washed over my face as I screamed for help.
"SARAH! SARAH!" I sobbed, shutting my eyes tight.
She did not answer, so I gained enough courage to go downstairs and find her.
I heard a slight pitter pattering from the front room and gently rested my hand against the door handle.
When I stepped inside, I swear I blacked out.
In the middle of the room were piles of dead bodies...my friends. Emily, Jordan..Kyle, Poppy..all dead!
Standing in the mist of the bodies was Sarah, grinning at me. Her winning smile now turned a whole different approach on me.
"Why?" I sobbed, tears pouring down my cheeks.
"Because I need to be popular again.." She replied quietly and without expression.
I was lucky enough to wake up in hospital, I was not killed like the rest.
Sarah was put into prison, and honestly..I wasn't all that surprised when they said she'd escaped.
However, I am now grown up, with a husband and two beautiful children. I live my life in fear. Fearing she will hurt me or my family.
Never try to be the most popular person in school, it just isn't worth it.