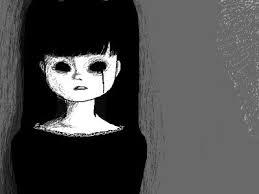 The Hungry Girl
I slammed the door tightly behind me, locking it firmly. A wave of warm air hit my face as I stepped onto the pavement.
I took a stroll down the street, enjoying the beautiful environment.
As I reached the end of the street, I saw a mass of black hair. Creeping closer, I began to see a pale face and a black dress. it was a young girl, no older than 7.
"Hi.." I muttered, stepping closer to her. She looked perfect, like a little porcelain doll.
"Hello." She replied, looking up. Her eyes were deep black and her expression blank.
"What's you're name? I'm Amelia." I said, giving the girl a warm smile.
"Katie, my name is Katie." She replied, grinning slightly, only a little grin. I swear I saw her chuckle too.
"What's up? You look sad." I told her as I sat next to her on the curb.
She pointed to her tummy. "I'm hungry." She moaned, rubbing her stomach.
I gave her a look of sympathy. I was just about to ask her if she wanted to come inside my house for tea when she jumped up and said,
"I must go for my tea now. Goodbye." as she crept down the street.
I shrugged and headed back inside my house.
The next day, I came back outside to play and saw Katie in the same spot, this time she was bouncing a ball against the curb while singing a little tune.
"Katie, Katie, quite contrary.
How does you're garden grow?
With sea shells and cockle shells,
Like pretty little maids all in a row."
I came up behind her, smiling. "Hey Katie! May I play too?" I asked, she turned around and nodded. I smiled again and began playing Catch with her.
We played together for a few days until I invited her over for tea. She agreed.
My parents loved her, they thought she was so little, so perfect, and so cute.
The next day, Katie asked me if I could babysit her while her mother was out shopping at her house. I asked my parents and they said yes. They adored Katie.
Her house was quite beaten up, but I said nothing as we entered.
The doors and windows were all boarded up, cabinets were falling off walls, and the wallpaper was peeling with moss behind it. I said nothing though.
We played for hours until it was dark. We dressed up, we had a little tea party, and later on Katie asked me,
"Wait here, I'm going to set something up for us to play with." and she smiled at me, like a big smile! I was so happy and I nodded.
Just after Katie had left the room, my dad called me, when i answered I immediately heard my dad's panicked and concerned voice scream,
"AMELIA! GET OUT OF THAT HOUSE, NOW! THERE HAS JUST BEEN A NEWS REPORT ON THE TV ABOUT A GIRL CALLED KATIE WHO DRESSES UP AS A 7 YEAR OLD AND KILLS YOUNG GIRLS! GET OUT OF THERE NOW!"
I dropped the phone in shock. Surely it was a different girl?
"Amelia..." I heard a little voice say, as I turned around to see Katie standing in the doorway with the biggest knife I've ever seen in her hand.
"I'm hungry."