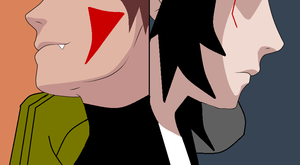 Laura Uchiha (Shippuden)
I opened my eye's to find half of my flat destroyed all that remained was half of the bathroom and my bed, luckily i let Natsumi sleep on my bed last night or she could've died! There was lots of talking outside and debris all over my quilt 'did my roof collapse?' i thought hoping it was the case, i slowly got out of my bed and stood on the floor it seemed stable enough but i didn't want to risk it so instead i singled Natsumi to get out cautiously and walk to where the debris slanted into a sort of ramp.
"There she is!" Shouted many people, "She destroyed our village!"
My eye's were astonished at the amount of damage, that had been caused over night. But surely I didn't do it I was asleep the whole night!
I slid down the debris with my hands held in my pockets and Natsumi slowly followed on afterwards. A stone was thrown at my head while multiple villagers and shinobi were still raging at me,
"You've got it all wrong, how could i have destroyed the village i was asleep all night!" I yelled attempting to hold back my anger.
More stones were being thrown at me by the minute, I had done nothing wrong yet people were blaming me for all the damage! Suddenly a group of people jumped on top of me forcing me to stay tightly on the ground, I quickly focused my chakra and threw all the villagers off me forcing them to fall. I huge light shone in my eye's then all i saw was darkness, nothing at all until moments later when i saw a ghostly light of my younger self and my father playing together.
"Stop it father your hairs tickling me!" My younger self laughed
seconds later my fathers figure disappeared and all that remained was me and my younger version. She was crying and her Sharingan had been activated, even though it was only the one comma it could still do some damage, i walked over hoping to cheer myself up. As I reached out to touch my old self's shoulder the figure slowly faded.
"You couldn't save the village, you couldn't save your brother and you couldn't save your family. Your a disgrace to the Uchiha name!" Screeched the terrifying voice.
My ears were hurting badly all that i could hear was the same sentence repeating in my head over and over again, when suddenly I collapsed.