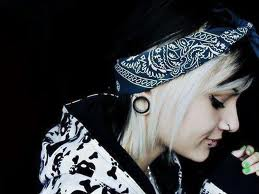 Introductions..?
I started my makeup after i had woken up. Groaned as i made a huge mess with it. My mom yells for me to hurry up. I yell back" Whateve", and contuine my makeup...
I walk into my prison, or as you know it as school, and instantly smell the Cheerleaders and thier man toys. Fresh smells and fruity lip balm.
Ohh! I have forgotten... you dont know me yet... do you? Well then, my name is Skylar "Sky" Nightmare. Its a long story to tell you about my name, but i dont have the time for that. This is my story, and your on for the ride.
Soooo, after i finished my coffee and cigarette, i walked into my first hour. The class is basically my only class i love going to. Its ART!! wooo! alll my friends are in there and no preps or cheerleaders. which is dreadfully nice. In class we are working on our painting skills.
My teacher, Mrs. Lullaby, looks at me and says," Amazing work for someone so young, Sky." "Thank you, Teach!" i say back. The door opens loudly as a very smoking hot guy walks in. ohh...!
The mystery guy says, "Im new. My name is Dustin Night, or Dusk." I literally melt in my chair...
_______________________________________________________________________________________________________