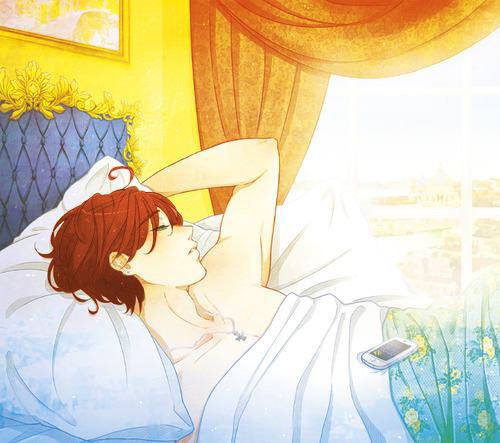 Chapter 1: One Strange Morning
The sweet tune of the morning song was being chirped by the birds, the sun was peeking through the window and shinning upon the young Italian's face. A soft groan left the boy's lips as his eyes fluttered open, the vibrant hazelnut and crimson-amethyst eyes taking in the morning light. He sat up before looking around the room with his eyes squinted, a soft moan coming out as he fell back down. "That dream again... That man, he almost looks like me. Why won't the past leave me, I think I helped him in war before..."
He let out a amsall sigh as he looked at the clock, it was only seven in the morning. By that time, the young Italian got up and out of bed, he walked to the bathroom then looks into the mirror. The usual morning frown and faded dark circles around his eyes are all that he seen. "Oh mio... I look horrible. I need to start resting more or wish these dreams will quit waking me up in the middle of the night.." He gently rubs his reflection before walking over to the shower and cuts the warm water on, strips from his clothes then steps into the shower.
A small sigh left from Inezia's lips as he looked, the warm water was slowly waking him up. His mind was trying to decide what he was going to do today. Maybe he could go and see if he could help out his nation in any way, he is one of the hearts of his nation. Soon, he started to lather his hair in shampoo. A loving sigh left his lips when he opened the soap, he loved the smell of luscious honeysuckles from Rome. The morning seemed perfect now with this nice and warm shower.
The young Italian started to rinse off before cutting the shower off. Once the shower was off, he could hear someone knocking at his front door. Strange, he rarely had any visitors come to his house. He made quick work into drying off and getting dressed, he left his hair unbrushed so he could go answer the door. Inezia slowly peeked out as he noticed it was Tokyo, Japan's heart of the nation.
Tokyo just smiled as he was here to finally greet Venice properly, "Konnichi wa. I heard that you had made a settlement here so I had to come and finally meet you." Inezia just blinked, he's never met Japan but here was one of his cities; did Tokyo have some type of interest into his culture like Japan was with Italy? A smiled appeared on the young Italian's face as he wanted to have a great impression on him, "Ciao Giappone's città. What has brought you here?" The young Japanese boy just smiled to hear the question, "Me and Berlin was wondering if you'd rike to join our alliance." Venice blinked, he couldn't believe what he was hearing at all.
Tokyo noticed how Venice was acting and smiles a little, "Ret me introduce myself, I'm Akio Kirkus." Venice nodded once before he swapped his name, "Nice to meet you Akio, I'm Inezia Maledire." "Inezia," Akio spoke calmly, "Me and Ludovica would really rike you to join our alliance. Please think about it, we really want you instead of Rome." Inezia sighed before looking away, "But Akio... I can't join your alliance. I'm not the capital. Io sono la città di fiumi, Venezia." This slightly upset Akio as he turned around, how was he going to tell Berlin that Venice rejected their request?
Venice looked at Tokyo then sighs, slowly he placed a hand onto Akio's shoulder. Akio blinked and looks over his shoulder to Inezia. "Let me think about it, I may join or may not... Just let me think about it." Tokyo's eyes lit up with excitement as he nodded, "Yes, we can give you time." Venice smiled as he removed his hand from Tokyo. The young Japanese boy turned to Inezia, giving his thanks to the young Italian before he left.
Inezia watched Akio walk away as he stepped back into the house. Venice lived alone with his pet cat, he's been alone since that one war. All of a sudden, Inezia's chest started to hurt as his heart beat increased rapidly. His hand clutching his chest quickly as he fell back against the wall. Pain filled his whole body as tears formed in his eyes.
That war with the Germans, it put Venice into bed rest and life support for almost two years. Flash backs kept appearing in his head as the pain began to grow. Inezia started to scream, the war was replaying bits and pieces until he passed out; the young Italian collapsed onto the floor unconscious. Italy was sitting at the World Conference meeting as a sharp pain shot through him, a small grunt leaving him as he began to feel light headed. "Something's wrong... Somewhere, I can feel it..." Italy mumbled quietly to himself as he rubbed his chest.
Germany looked over to Italy when he heard him mumbling, he didn't hear what he said but he noticed he was rubbing his chest. Romano glared at Germany for looking at Italy, soon he looked at Feliciano himself, "Feliciano, you don't look too well. You should go home." Lovino whispered to Feliciano. Italy just shook his head as he whispered back, "No fratello... I-I'm fine. I just have a headache and a temporary pain in m-my chest."
Romano shook his head, he knew how these pains was. They normally lasted hours and the headache turns into a migraine. "Per favore fratello. You should go home before they get worse." Lovino begged. Feliciano sighed as he nodded and quietly got up, Lovino's begging normally worked because Feliciano doesn't like to see him upset. Italy the left the meeting and Romano sighed from being worried, Germany looked at the door Italy had went out of.
'I may just go visit him later.' Ludwig thought to himself. Japan looked upset, he thinks he knows what's wrong with Italy. Honda got up as he left to catch up with Italy, the Allies looked confused except for Russia; a huge smile was on Ivan's face by these turn of events. "Well, at least there's no huge fight this time, da?~" Russia said sort of cheerfully. At that moment, both Romano and Germany glared at Russia; a light chuckle leaving from Ivan.
Italy stopped at the door to his house, he just stood there for a moment. Japan noticed that Italy stopped so he stopped too, standing in the yard as he looked at the Italian. "So... You may know what's wrong with me, that's why you followed me. Sì, Japan?" Feliciano stated as he didn't look back. Honda sighed as he looked down, "Yes, sorry if it was a bother to follow you but... I think it's one of your cities that may be causing this grief and I may know which one it is..." After hearing that, Feliciano gasped; maybe Honda's right, but who is it?