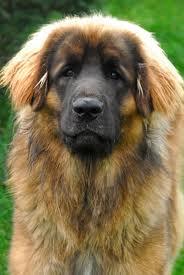 the leonberger
A leonberger is a lovely dog , that loves children.
They were first bred to pull carts and are from Germany.
Males weigh about 130 - 170 pounds and are about 74 - 80 cm tall.
Females weigh around 100 - 130 pounds and are about 61 - 74 cm tall.
They live for about 8 - 9 years.
They love to swim but are lazy indoors.
They arent recomended for apartment life, and will do best with a large yard.
They are lively, brave, intelligent, steady, affectionate, sweet, loving, stable, calm and extremely HUGE.
They come in lion yellow, golden red, red brown, sand, cream and pale yellow.
They always have a black mask and sometimes a white patch on chest and toes.