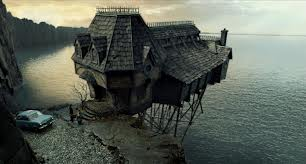 1
I scowl at the seat of my dad's car as we drive through the rain.
"It's raining." My dad fails to start a conversation. I grunt and kick the seat. Abruptly he stopped the car and I made out a dim figure of a house in the rain and mist. My dad gets out of the car and round to the boot, not bothered by the rain. He pulled my suitcase out of the back and immediately drops it. "How much stuff did you pack, Bea?"
I stay silent and watch as he struggles to the door under the weight of my suitcase, wheezing and panting. Eventually he arrives at the door and sets it down, leaning back and wiping his brow. I groan and get out, slamming the door behind me. "Dad, I can take it-"
"No, Bea, you stay here," he pants and opens the door. It swings off it's hinges and clatters to the ground with a bang.
"Wow dad. You just ripped the front door off."
"I didn't do anything," he looked shocked. I wasn't, judging by it's likely-hood of falling off the stilts and tumble into the sea below. I shivered. "Dad, why don't you move? You could fall into the sea any moment."
"Nah, I like it here. Gives you character." He walked in and I heard another bang as the living room door fell apart. I roll my eyes and follow him in, pulling out the wheels on my suitcase and wheeling it along. My dad looked dumbfounded as I entered. "Suitcases have wheels?"
"I'm going to bed," I yawn and go upstairs, taking my suitcase. He watches as I go up and a shower of dust falls on him as I do. I lie in bed and think of all the changes that have happened since my mum died. I lost all my old friends, moved away to rainy old England, lost my dog and now come to live in this shed. Not exactly, it was a mansion but judging from inside it looked like how someone would treat a shed. My eyes began to feel heavy and the power of sleep took over.