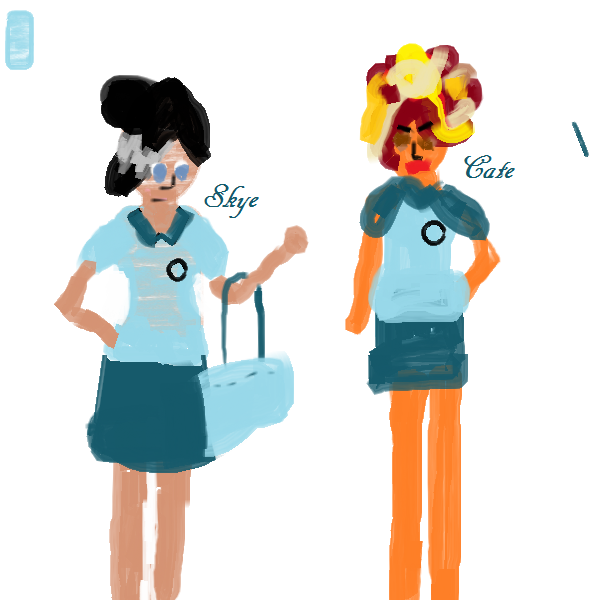 Skye Skater
Skye's Diary
4th September - 9.00
This is my first day of being in year 8. I don't really care about getting the better seats at the lunch table, or less people teasing you for being a newbie. I really care about doing these acting classes, as this year we have to make up partner plays. You see, girls have to go with boys, and I'm going with Louis Thermald, my total best friend and kind of crush but not...!
Me and Louis met in year 5, and I've had a soft spot for him ages. We've been good friends, and had a laugh, but this year I'm hoping for so much more!
Back to acting lessons...all we know, is that each partner play has to be 10 minutes long, and three will be selected to be shown at the big show, and to be extended to 30 minutes. Me and Louis have been writing plays and songs all holiday, from school to holidays, from adventure to horror, but none of seem...right. The only genre we haven't tried is romance...but I'm just too embarrassed to say that.
On the first day of school, I walked into the classroom, in my new school uniform: A pale blue blouse with a teal skirt, and a dark jumper folded in my dark blue bag, with the school logo sewed on. In my bag, I had a dark blue pencil case, again with the school logo, and school pencils and pens.
Cate approached me. She grabbed my wrist, and pulled me to the girls loo. This was the worst part of school: Cate. She always had it in for ME. She smiled cruelly.
"So look whose here. Ugly old coaly." She grabbed my hairband and pulled down my hair. It cascaded down my back. Cate tugged at it, and a great clump came away. It hurt like hell, but I didn't say a word. Madison and Allay joined her, one standing either side of me.
I just ignored them, because I knew they were waiting for a reaction. But they weren't going to get one.
Madison grabbed my bag, and her and Ally rifled through my stuff,while Cate snarled snide comments at me. She grabbed my ipod, but shoved it back when she saw the cracked screen. The bell rang and I ran for it, grabbing my bag while I did so.
Maybe year 8 wasn't going to be as good as I thought...