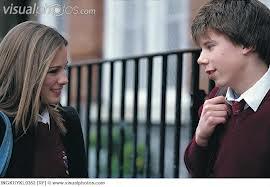 3rd September
Ohmagod! You won't believe what happened to day! Wait, let me give you the back story... So i woke up shattered, cause i was watching films last night, and thinkin- Oh great, fist day of year ten. So as usual i crept out of bed, got washed and dressed. Then i decided well even though we have to wear horrible school uniform, I still can make and effort! So i put on mascara, bit of bronzer and eyeliner and i straightened my hair ... i got breakfast and waited for the bus. On the bus i met up with my bestie Lucy.
"Hey..." I say wearily.
"Hey, what up with you?" She asks.
I sigh," What do you think! Fist day of school! Still there is nothing i can do about it."
We burst out laughing
At school i was moaning and groaning as the two of us trailed along- that's when i saw him. He was quit tall with honey colored hair that flapped in the wind, he had a wash bored stomach and a lovely lopsided grin...Lucy saw me staring.
"No way, do you like him?"
"Yeh obviously." I say fasinated, " any way, who is he? I haven't seen him around
She shrugged.
" He is tom worthy. "Whispered a voice from behind us, we whizzed round to see geek , Emily Shore.
She shifted her glasses" He's is part spanish, and has just moved here. He is hot isn't he?"
We nod...
"i'm gonna talk to him!" I say..
Smiling, i slowly walk over to him however as i'm getting closer my deadly enemie Stella Brown jumped in front of him and started filrting with him!!! Great!