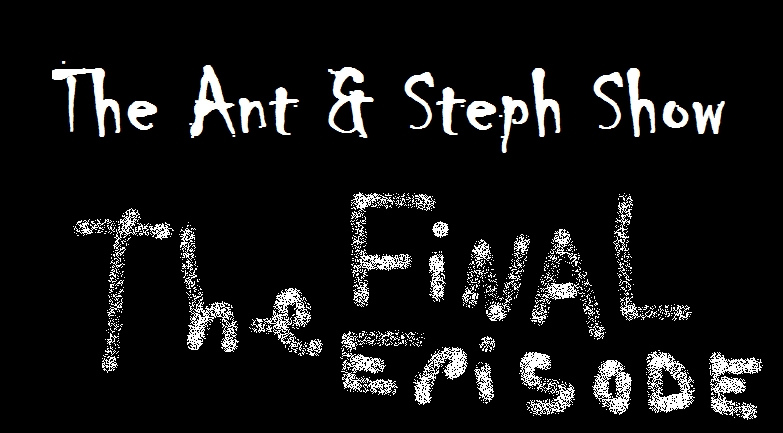 "The Final Episode"
The show begins and I am sitting alone in the desk. The room is dark and it is quiet.
Me: Hello, This is the Ant and Steph show. I am your host, Anthony... Well we all know that XXxSilentHopexXX has left qfeast for the time being. She has graduated and has more important things to do with her life. Now she is not here tonight for that very reason.
I take a deep breath.
Me: Now, I know some of you have been looking forward to season two of this show... However, my graduation is next week and I wont have alot of time to be on qfeast. I have my life to worry about as well. So I am taking this time to say goodbye to qfeast. It has been a great 118 days...
Me: On June 3rd, that will be my last day on qfeast. I will not be posting anymore long stories either. I am going to graduate and I have a life to live. I have set goals and I have plans.
Me: Now, does this mean I'm leaving for good? Hell no, Ill pop in here and there. However, It wont be everyday for long periods of time like I have been for the last 118 days. I will return and post here and there, say hi to everyone, and just let everyone know that im not "gone."
Me: I would like to give a shoutout to several qfeast users including: Blanket.Loves.Ally, JennyBearie, Kittycat Neisha,Beauty784, catesonkates, margurate3636, EvilAngel1490, and a few more. You guys have helped me keep going when i felt like i had failed. You guys rock, and i hope that I will talk to you again after June 3rd.
Me: Sempiternal (aDancingDowneyAppeared)... You have been the toughest to impress. You are hardcore and ery impressive. I think you are one i will miss the most. You are an amazing girl and I really hope that we can continue to talk past school. You rock, your music taste rocks... Ill see you around.
Me: XXxSilentHopexXX, well if i have said it once, ive said it 90 times... You are like a sister to me. Im glad that I know I can talk to you past June 3rd. But i still must say that you are the best ever. You rock, you have great talent with your dancing, writing, drawing. Now dont ever let anyone bring you down... Just keep swimming.
Me: Well, Thats all I have to say... I hope you all have enjoyed having me here on qfeast... Remember that today is NOT my last day... June 3rd IS my last day... So, Ill see you all around.
I get up, and walk out as the desk light turns off and the show goes out for the last time.