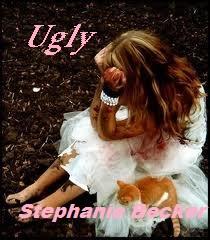 Ugly
A week before Christmas was the week I was suppose to spend time with my boyfriend, Jake. His mother was going to travel to North Carolina to spend Christmas with her sister, and Jake was going to go with her. He wasn't going to be back for a while, not even in time when we go back to school. A wee with Jake was going to be the best week ever, or so I thought.
I was on Facebook that evening, browsing through pictures of my friends who were already taking Christmas, family photos. I commented on some of them, and then something caught my eye. It was a picture of Jake, wrapping his arms around a girl and kissing her cheek. Curious, I looked for a tag of some sort to see and find out who this girl was, I didn't see no tag or comment with this picture. Within the next moment, my phone started to ring and to my surprise, Jake was calling. I answered the phone.
"Hello?", I answered.
"......."
"Hello?", I answered again. I knew Jake was there, with somebody else. I heard giggling in the background; girl giggling.
"Hey, Angel?", Jake spoke.
"Yeah?"
"Oh hey, listen, I had to tell you something. Is there somebody with you?", he asked.
"No, just me. Why?"
"Oh ok, hey listen um, I don't know how to say this without hurting your feelings, but I think we should break up."
There is was. Those two words, break up, is what caused me to crack. I felt my eyes begin to water and my heart began to throb as I heard the laughter of a girl in the background.
"What?...Why?", I chocked out.
I heard Jake sigh as I heard him shush the girl in the background. I knew for a fact without a doubt that that girl from the picture is with him.
"Because you deserve better than me and-"
"But I want you...", I began to sob.
I heard Jake sigh again as he began to speak, but I didn't hear him. My mind was spinning as I thought of the girl in the picture with Jake. She was stealing Jake away from me, but yet, Jake has been cheating on me with her. Suddenly, I began to hear what Jake was saying. The only words I heard him make out was, "Ariel, I'm sorry, but-"
With all of this said, I beeped him off and shut down my phone. I let the tears fall freely and I began to find myself walking to the bathroom.