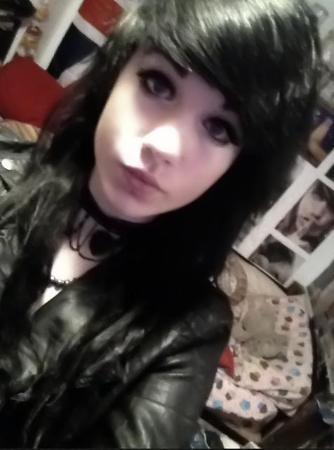 "Sempiternal"
Me: Hello and welcome to episode 19 of the show. I am your host, Anthony. With me is my co-host, Stephanie.
Steph: With this being our final episode before the finale, we felt that we should have a very special guest.
Me: It took me a while, but here is our guest... Sempiternal a.k.a. Sorinne!!
Sorinne comes out and sits on the couch.
Me: Welcome to the show.
Sorinne: Lets just get this over with.
Me: Ok, first question... What is your favorite color?
Sorinne: Grey.
Steph: Name three of your favorite bands.
Sorinne: Bring Me the Horizon, Misfits, and Motionless in white.
Me: Name a class you take.
Sorinne: German.
Steph: Whats your favorite movie?
Sorinne: I don't really have one.
Me: How are you so good with words?
Sorinne: It's this little thing called english class.
Steph: Why type of music do you like?
Sorinne: I adore thrash metal, metalcore, post-hardcore, alternative rock, punk rock, and british dupsetep.
Me: How do you feel about 1D?
Sorinne: They are not a good band at all.
Steph: You like BMTH alot, huh?
Sorinne: Yes, all of their songs are masterpieces.
Me: You are a hard person to impress, you know that?
Sorinne: I know, its because I am very picky.
Steph: Well we dont have anymore questions.
Me: Thank you for being on the show.
Without words, Sorinne stands up and walks out.
Me: Well thats it for this episode. Next will be the season one finale. It will be a special episode for a very special individual.
Steph: We have had a great time doing this. We hope to be back for season two.
Me: See you all for the finale.
Steph: Bye!
We wave as the show goes off the air...
*I wanted to thank Sorinne personally for allowing this episode to happen.*