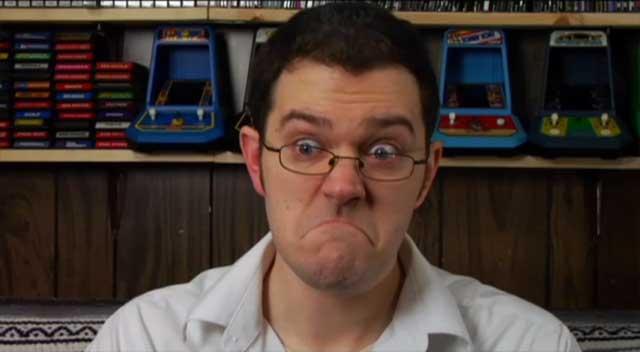 "AVGN"
Me: Hello I am your host and welcome to episode 5 of the show. If you have read this show, you don't need me to introduce everything. And if you havent and decided to start at episode 15... you're an idiot.
Steph: I don't know alot about this person... So here is James "The Angry Video Game Nerd" Rolfe.
The Nerd comes out and sits on the couch.
Me: Welcome to the show.
AVGN: Thanks for having me.
Me: First, I have to say... Avoid ET on atari.
Nerd: You played it?
Me: Yes...
Nerd: That is worse than all circles of Hell.
Steph: How do you feel about Mario Bros?
Nerd: One of the best gaming series of all time. Without a doubt it is the king of games.
Me: How is the movie for AVGN coming?
Nerd: It is going great. We recently released the trailer. We hope to release the movie during the summer of 2013.
Me: I can't wait for that.
Steph: What is the worst game besides ET?
Nerd: Dr. Jekkel and Mr. Hyde for NES. That is an ass of a game that no one should play.
Me: What about Contra?
Nerd: One of the greatest and hardest shooting game ever.
Me: Well I have no further questions. Thanks for being here.
Nerd: Thanks for having me.
AVGN leaves.
Me: well thats all for this episode.
Steph: See you next time.
We wave as the show ends.