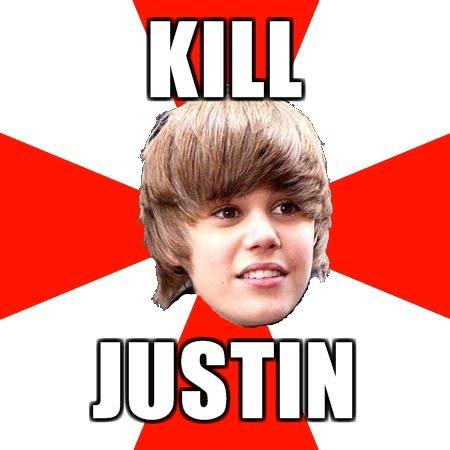 "Justin Bieber"
Me: (Sigh) Hello and welcome to episode 9 of the show. Today we will be interviewing a loser. Here is your co-host, my dear Stephanie.
Stephanie: This is going to be painful. But we will do it anyway because we are just nice like that. I warn you all that hate this guest to just skim this episode. Actually, dont because this might get good. So here is our guest. Justin Bieber.
JB comes out with Harry.Loves.Me by his side. They sit on the couch.
Me: Welcome to the show Ally and Justin.
JB: Thanks for--
Me: Oh shut up so we can get this over with. First question, why did you want on the show?
JB: I want to be interviewed and I wanted a closer look at the co-host.
Steph: Um... ok? That is kind of creepy. I should beat your ass for it.
JB: Ask me a question co-host.
Steph: Do you want your ass beat?
JB: By you? Oh that would feel so freaking good.
Steph: Ok, let me rephrase... Do you want shot? (Pulls out .45)
JB: No...
Ally: Don't shoot him.
Steph: Then cut the bullshit.
JB: Someone has anger problems.
Steph: Do you want me to hurt you? You'll have mental problems by the time I'm done with you.
Me: JB, do you smoke pot?
JB: Loads of it, Why do you think my voice is so high on stage? I'm high about 90% of the time and hung over the other 10%.
Me: Shouldn't you be in jail?
JB: I'm too good for jail. I would rather be locked up with your co-host.
Steph: I am so close to coming over there and slapping the shit out of you. Shut your trap you chicken sucker.
JB: (Flips Steph off) I am high so i wont feel anything.
Me: Why are you such an ass?
JB: Fame and money. I don't care about the fans. They suck anyway.
Ally: Thats not nice.
JB: So what of it.
Me: You can leave now JB. No one likes you.
JB: Ill leave when I feel like leaving.
Stephanie pulls out a sledgehammer. She walks over and beats the shit out of Beiber.
Steph: Heres your cure for Bieber Fever mother fucker!!
Stephanie throws him in a closet and locks the door. Ally runs out of the studio. Steph sits back down.
Steph: Well now that JB is in a coma, who is our next guest?
Me: According to the list...
Steph: (fingers crossed) Pinhead... Pinhead... Pinhead...
Me: The Rock.
Steph: Oh you fucker...
Me: Im kidding... Pinhead is next
Steph: YAY
The show ends as Steph hugs me tight.