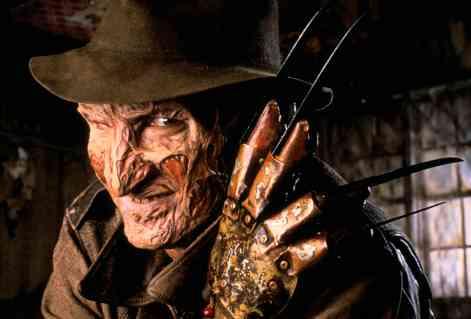 "Freddy Krueger (A Nightmare on Elm Street)"
Me: Hello and welcome to episode five of "Anthony Talks". I am your host, Anthony. With me is the one and only, Zone-Tan.
Zone-Tan: As promised, this week is Freddy Krueger!!!
Freddy walks in and sits on the couch.
Me: Welcome Freddy.
Freddy: Thanks for having me on the show.
Zone: Let me warn you. Pissing me off will most likely cause you to have nightmares tonight.
Me: Ok, first question... What is your favorite kill you have done so far?
Freddy: (laughs) The time i killed that def kid by scratching on the chalkboard. His head exploded like a water balloon.
Zone: Next question... If you ran out of children to kill, what would you do?
Freddy: Find more kids. Every town has an elm street.
Me: Why elm street?
Freddy: Hell if i know.
Zone: You act like king shit, but there is another horror icon that could top you... Jason Voorhees... What are your thoughts on Jason?
Freddy: Jason is a big old bitch. I have unfinished business with that masked bastard.
Me: You fought Jason once, and it resulted in Jason carrying your head. Any comments on the defeat?
Freddy: It wasn't an official defeat. Besides, Jason didnt decapitate me, that bitch did. I could have killed Jason. And one day, we will clash again.
Zone: Im glad you think you can beat him. We have a surprize for you.
Zone-Tan snaps her fingers and Jason appears. Freddy stands up.
Freddy: You... Die...
Freddy and Jason raise their weapons and walk towards each other as the show goes off the air.