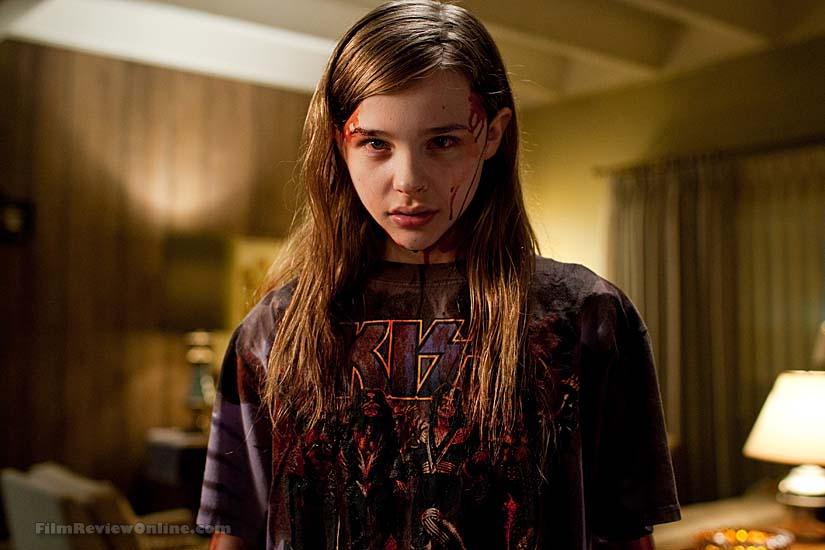 "Abby (Let Me In)"
Jack: Hello readers. I am your host, Jack Lee. This is another episode of "Jack Talks." Here is my co-host, Anthony.
Me: Last time we interviewed the host of Ztv News. Today we interview a vampire. From Let me in... Abby!
Abby comes out and sits on the couch.
Me: Hello Abby, and welcome to the show.
Abby: Thanks for having me.
Me: Ill ask the first question... How long have you been a vampire?
Abby: Over 300 years.
Me: How often do you feed?
Abby: About once or twice a day.
Jack: Do you kill people? Or feed on animals?
Abby: People... animal blood isnt as filling, or as good, as human blood. I only drink animal blood if i have to.
Me: Can you control your vamp outs?
Abby: Yes, I can quite well.
Me: If we were friends, could you keep yourself from vamping out and killing me?
Abby: Yes I could, unless I've gone three or four days without feeding. I'll avoid you if it is that bad.
Me: How do you feel about Twilight?
Abby: I think that the way they say they are vampires is a big load of crap. Vampires do not sparkle in the sunlight. I can't stand it. Vampires are aloud to love, but Twilight ruins it with their personalityless charactors.
Me: I agree.
Abby: You seem cool so far.
Jack: Which of us do you find us more likeable?
Abby: The co-host. HE is more talkative and has seen "Let Me In"
Jack: I've seen it.
Abby: Tell me one think about the movie then.
Jack: The boy dies?
Abby: No he doesnt. You know, I think that Anthony would be a better host than you.
Jack: Fine, if Anthony can say a full line from the movie "Let Me In" I will quit the show. But if he cant, he has to quit.
Me: Ok... Owen at one point asks Abby "Are you a vampire?" and Abby responds with "I need blood to live."
Jack: Dammit (leaves)
Abby: cool (smiles)
Me: Well this concludes this episode. Thank you for your time, Abby.
Abby: No problem.
Abby leaves and the show goes off the air.