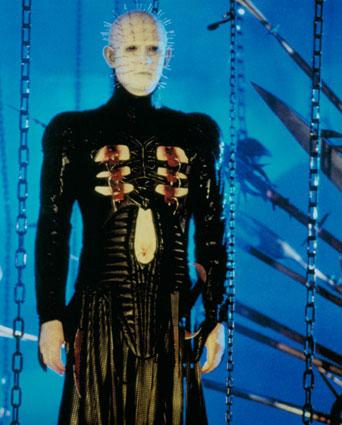 Chapter 1: Mission Stated
It was cold and dark in the deep depths of Hell. On the West side of Hell sitting at a table were four gentlemen who all had one thing in common: murder. One of them was the razor-claw master himself, Freddy Krueger. Sitting beside him was the head general of the Cenobites, Pinhead. Sitting across from Freddy and Pinhead were the two masked killers, Michael Myers and the momma's boy, Jason Voorhees. The four killers sat together at the table in silence. Each of them were thinking why they all were here. They all hated one another, but why?
Freddy, who was sitting with his legs up on the table, tapped his chin with his blade glove and said, "I don't know about you asshoes, but I think-"
"Krueger, we all don't want to hear it.", Pinhead snapped. Anger rose in Pinhead for he knew what Freddy was going to say. Freddy was going to start complaining about why they were all here and why it was necessarily. Pinhead, being the head General and being the Hell God's favorite son, knew exactly why they were all here. The Hell God called forth, the top best killers to go on a mission and capture more souls to be delivered.
"Now gentlemen.", Pinhead began. "I know your all wondering why your all here. Well, for the first time in hell, our Lord has summoned us to come together and go out to Earth and collect more souls. Doesn't matter who they are and what their capable of, just do the job and each of you would be rewarded."
Michael, after what seemed like for ever, had lifted his head up and look at the Cenobite. Jason had done the same and as for Freddy, he acted as if he wasn't interested, but the sound of a reward was music to his ears. The reward part had caught his attention and he looked over at Pinhead.
"Reward?", Freddy questioned. "What kind?"
Pinhead smirked at Krueger, knowing Freddy would accept the job in return of his reward. "Depends.", Pinhead replied. "What is it that you favor for?"
Freddy thought for a moment and a smirk grew across his face. "So, in order to get what we want, we have to work together and just kill?"
"Correction.", Pinhead replied.
Freddy nodded his head with a sinister smile and turned to the two masked killers. "What do you fags say? Your in?"
Michael looked at Pinhead first and then back at Freddy. His masked face was expressionless, but his nodding gave the answer that he was in. Now, all eyes were on Jason. Jason was deep in thought about if he did this job, what reward would he want? Maybe his reward would be to bring his mother back. The thought of his mother coming back made his dead heart beat for joy. Jason turned his head in Pinhead's direction and gave a slight nod.
Pinhead smirked at the three killers that sat in front of. "Good form gentlemen. Now, let the games begin."