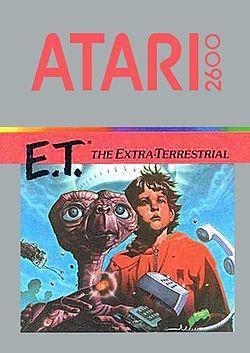 E.T.
Oh My Gosh... This game has to be the worst piece of bullshit of a game i have ever played in my entire life. Now i played this game on an atari website, but it is still the same game.
I first heard of this game on an episode of AVGN. He said that it was so bad that he would never review it. So, me being curious, I found the game on a website and tried it out. I played it for only about three or four minutes before wanting to see how far i could throw it. It has to be the dumbest game ever.
You play as ET, as expected, and you use the joystick to move and the button to raise ET's head or to make him run faster.
So, basically you are walking around as ET. I have no idea where you are supposed to go or what you are supposed to do. So, i just kept walking around and fell into a room. the only way out of the room is to make ET's head rise up and fly out of the room. And it seems like everytime you hit a wall or go the wrong way, you end up in the pit as i now call it. Trust me, you will see that room every five seconds so be ready for frustration.
Sometimes a guy in a hat will catch you and take you to a cage, that you can just walk out of, or he will take you to, you guessed it, the damn pit... This game pisses me off so bad because of one thing, it is just unplayable...
I dont understand why it is so bad and i dont see the point... I thought AVGN was just being a wuss, but now that i have played it, i dont blame him.
My final advice to all gamers, Even AVGN... Do not play it... it is a nightmare!!!!!!!!!!!