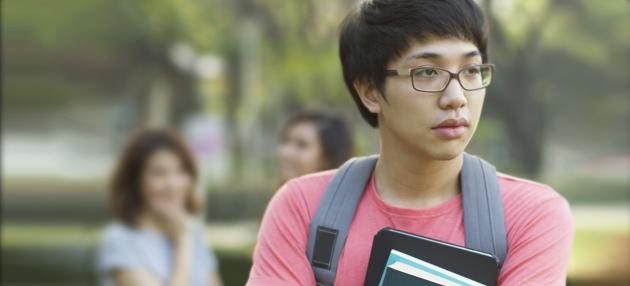 I like my neighbour but he never even looks at me, how can I get him to notice me?
I have a crush on my Korean neighbour, he's pretty cute but doesn't talk to anyone except his lil bro...I kind of maybe stalk him a little...like, I like to "spy" on him (aka stare at him longingly as he walks by not acknowledging my presence). I think he only looked at me twice out of the dozens of times I saw him (including when I sat beside him at the library computers)...once when he and his bro were playing baseball in the park and he went in my direction to get the ball, and second when he was coming home from school and I--this is so embarrassing--was peeking at him from behind a skinny little tree and he looking behind him--I swear there was nothing else to look at X(
But he always seems like he's in his own little bubble...I don't know how much English he speaks because I only ever heard him talk to his brother, in Korean.
I think he's really cute and sweet and he likes to read comics (I like comics too), but I think about him every day and lately it's been hard for me to see him but him not see me; that's how it feels...I don't even want to get into a relationship with him, I just want to be friends before we move away from our neighbourhood and i'll barely ever see him (maybe never)!
Any advice?

(PS he looks a little like this boy in the picture, just he has zits and rounder glasses and less full lips and is a bit younger)
▼Scroll down for more questions▼
Answers (
3

)

vote up or down the answers
Unsure of how to confess your love to someone? Try this:
Acquire several dozen limes.
Go up to them and then drop all the limes.
Start picking them up, but keep dropping them. The clumsier you look the better.
Keep doing this until you have their attention (this could take up to thirty minutes).
Finally gather up the limes. Try looking a bit sheepish.
Look them deeply in the eyes and say, "Sorry. I'm bad at Pickup Limes."
See More▼

Marry them.
on October 28, 2015
You could say hello in Korean that might make him notice you.
Do you want me to tell you some Korean words? (I'm Korean )
on October 24, 2015