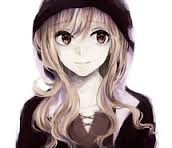 I Need an Idea for a Mythical Humanoid With Wings! (Read Description)
I want to write a story where the main character is something mythical (she has to have human characteristics though eg. she needs to be like an angel, Valkyrie, or Harpy). I can't do angel because my friend is already writing a REALLY awesome story on here with an angel (It's called Unforgiven - by Sarbar1010) and I want to write one but I need a mythical humanoid that can fly (preferably with wings) and this is a long question so I should probably end it now!
▼Scroll down for more questions▼
Answers (
6

)

vote up or down the answers
Kelkay she has bird wings she's soft gentle kind but if you mess with anyone she loves sh a fire out of control her bird wings are made f fire her hair is pink and her eyes are blue. She wears a white hoodie and sneakers. When she gets mad she can't control it which is bad. She looks evil so peps tend. To stay away from her she is also very Rhythmed. She is black. Not trying to be raceist because I'm white so yhea if you need any more info on her hit me with it I'll come up with
See More▼
it and if you do this one plase credit me a little. Thannks for your time taday
on August 27, 2015
Maybe an angel of music that finds the music in everyone's heart (harmony) and she would have the wings of a humming bird, but bigger
on July 10, 2015
So do you want wings that appear more like birds' or reptilian (like dragon wings) or bat wings or doesn't matter you just want a cool idea for a combo of human + winged creature?
on October 22, 2014
Avian Humanoid. Its not specific, its just a human with bird like qualities, varying from a falcon to a humming bird to an owl. Play with it, create different names for the different species, make your own
on October 21, 2014
Haltija
A haltija (haltia) is a spirit, gnome, or elf-like creature in Finnish mythology that guards, helps, or protects something or somebody. The word is possibly derived from the Gothic *haltijar, which referred to the original settler of a homestead — although this is not the only possible etymology.
The girl/boy could have to protect what she/he treasures most. It must be an object. The person she/he treasures most us the one trying to get to it. Maybe she/he has to decide.
See More▼
Most treasured object, (It has to be REALLY special to her/him eg: an amulet that her/him mother gave her before her/him mother dies) or most treasured person.
on October 20, 2014