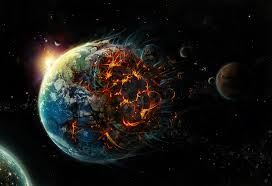 How Will The World End?
There are some things in life that we may never find out. One of them is how the world will end. What do you guys think?
▼Scroll down for more questions▼
Answers (
12

)

vote up or down the answers
Um. Let`s see:
Asteroid
Meteor
Sun dies
Idiots
Black hole
Andromeda Galaxy colliding with our own
See More▼

Aliens
Rouge Planet
Comet
People using so much gas that we become like Venus
Our planet moves father away from the sun
Our planet moves closer to our sun
Solar Flare kills all life and we become like Mars
Supernova burns the planet
Just to name a few...
(Did I scare you?)
on July 04, 2015
I will drop the worlds biggest bomb on the earth from space. Duh
on June 09, 2015
Disease, since there is already some cases of sickness that resisted antibiotics.
on April 15, 2017
I think some idiot will do something really stupid and inadvertently cause the apocalypse. I don't have much faith in humanity.
on May 28, 2015
An idiot who is north korea's president hacks all nuclear bombs and says "I CANT EVEN SPEAK KOREAN" and then drop all the bombs.
on April 14, 2017
on December 06, 2016
None of us truely know, however there are many different possibilities
on August 22, 2016
Thunderstorms ,Earthquakes,Global warming,Tsunamis,Hurricanes and Typhoons. Lots of Darkness will appear . Temperature increases. Cruelty will be spread. People will become horrible. Destruction here and there. And Many natural disasters take place continuously in same place . Wars between people and after in a few days earth will end....😓😓😓 But there is Some billion years to it to happen:}
on August 19, 2016
When its so much garbage at world that the sun can reach trough the thing around the world and slowly will we all burn down
on September 03, 2015
on August 10, 2015
You know your close to the end when weird things happen...
I guess a asteroid gets in interaction with the Earth and you know, end it. :/
on July 05, 2015