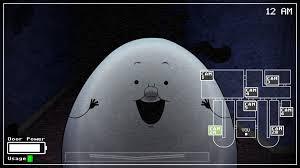 Would you want ONaF 3?
(ONaF = One Night at Flumpty's) I would want one!
▼Scroll down for more questions▼
Answers (
5

)

vote up or down the answers
YESSSSSS!!! In my eyes, it is the best FNAF........Clone. DANGIT!!!!!!!!!!!!! I can't remember the actual name of those type of games. SOMEONE PLEASE REMIND ME!!!! I'm going to CRAZy if I don't remember it!!!!!!!!!
on August 19, 2015
on September 18, 2016
on November 15, 2015
If it's based off of the troll fnaf3, yes.
on August 19, 2015
Nooooo! It's creepy and I would probably die XD
on August 19, 2015