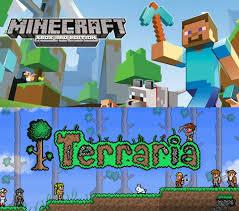 Who likes Minecraft and Terraria?
Which one is better? i can't choose!
▼Scroll down for more questions▼
Answers (
14

)

vote up or down the answers
TERRARIA YYYYYYAAAAAAAAAAAAAAAAAAAAAAA CUZ THERES JET PACKS AND TELEPORTERS AND MINISHARKS (shark+gun=minishark) AND GIANT FRICKEN ROBOT BOSSES
on May 03, 2016
on January 22, 2016
I love them both! Minecraft is awesome, although terraria has WAY more stuff
on February 24, 2016
I really like minecraft cuz its 3-D and stuff and u have to survive on your ur on and its hard to get stuff but terraria is awesome too because there are way more stuff in it, like more bosses!
on January 22, 2016
on January 23, 2016
I have played both and think mine craft is way better in a way it is simple you build to survive you farm and explore you go through caves. in 3-D.
a way there are villages and peaceful animals which I have seen almost none of or none in terraria
on January 22, 2016
on June 27, 2016
Minecraft is way better because you get to build your own stuff.
on February 24, 2016
TERRARIA !!!!!!!!!!!!!!!!!!!!!!!
on February 23, 2016
TERRARIA! it's like minecraft with more everything except for dimensions...
minecraft is a sometimes game
on January 21, 2016
I like minecraft and terraria.
on February 17, 2016
on January 24, 2016