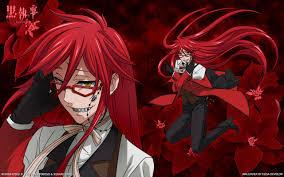 Who's your favorite anime character?
Mine would have to be Grell, he's so funny and let's face it he's fabulous! It can be from any show.
▼Scroll down for more questions▼
Answers (
9

)

vote up or down the answers
Do I have to choose one....:
Japan
HongKong
America/Hero
England/Iggy
Lichistein (Mini-me)
Switzerland
See More▼

Austria
on March 16, 2016
ummmmm Yukimura Sanada,Nobuyuki Sanada(from Sengoku Musou) and Kirito from SAO(Sword art online)
on August 09, 2017
Brock, from Pokemon. (Indigo League, to be specific)
on April 17, 2017
That's hard to choose, I don't normally pick favorites. Simon from Gurren Lagann maybe....
I don't normally choose favorites in shows, just watch the show...
on March 17, 2016
on March 17, 2016
on March 17, 2016
on March 17, 2016
Korosensai and Karma Akabane
on March 16, 2016
on March 16, 2016