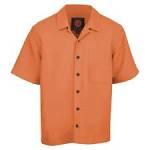 why do we wear cloths?
Ever since we existed, we have worn clothing. From shirts and pants, to animal fur. Why do we do this? Also why do we feel embarrassed when we don't?
▼Scroll down for more questions▼
Answers (
14

)

vote up or down the answers
People USED to wear clothes to a. keep them warm because people don't have fur and b. protect their private parts from harm. The embarrassed feeling is because of the things implied when not wearing clothes. Hope that helps!
on July 25, 2014
Well, the original purpose of clothes was for protection against the elements and warmth. Over time social norms formed as any social norm has. Fashion became a thing and people invest in clothing now. Also, we are embarrassed while naked because of silly social etiquette that was formed just as any other odd "normality."
on July 25, 2014
Because last time I checked our bodies are not made to be running around and hiking butt naked.
on July 25, 2014
on April 26, 2015
For warmth and protection.
on December 25, 2014
They are a part of our identity, our culture and our social norms. Clothes set us apart from other species, and from nature. What's more, by signaling that we belong to particular social or political groups, they can also set us apart from one another.
on July 05, 2018
Well, would you like walking around with no clothes on? In a public place?
on June 29, 2017
I guess because boys don't want to see girls' vaginas and girls don't wanna see boys' penises?
on October 20, 2014
Because most humans don't understand that skin is already their clothes and they're comfortable wearing ANOTHER layer made of cotton and silk.............
on August 28, 2014
I agree with Elleyd. Also, it's clothes, not cloths. Sry...grammar freak alert....
on July 25, 2014
I think we feel embarrassed because we have the feeling it isn't acceptable and stuff
on July 25, 2014
BECAUSE WE'RE NOT GONNA WALK AROUND NAKED ARE WE?
on July 25, 2014