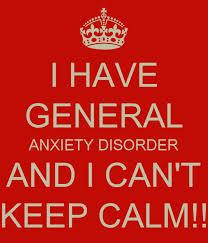 Does anyone know anything about GAD?
So it's General Anxiety Disorder and I am starting to think I have it... It all started about 2 years ago when I got REALLY bad anxiety attacks like no sleep for a couple months, horrible grades, everything was stressful, and I would sob randomly. It got bad... I had to take sleeping meds and do daily things to fix it... I got over it for a while and last year was fine but now with high school starting and all the added stress, I thought I was going to have a break down today... I got all panicky and felt like I was going to cry. I've always had issues with worrying for no reason but I didn't think anything of it until I decided to look into this and now I seriously think I have it. My question: Does anyone know anything about it and/ or have solutions to fix it?
▼Scroll down for more questions▼
Answers (
5

)

vote up or down the answers
on November 11, 2015
I have that a bit , but it's minor. I just think to the happy side of things and it makes it better
on September 11, 2014
Hmm, idk. Maybe look into stress solutions, things like stress balls (that squishy plastic thing to squeeze when you get stressed) or counting the bones in your hand or something. I get stressed out sometimes, like I will literally just have a sob session. Once was when I had assignments due for this essay online zoology thing, (out of school) and sometimes I'll cry for a while if I'm ill. I don't have a disorder, it's not that serious.
High school is tough, my brother started
See More▼
year 7 (our high school) and moved from one homework a day to three. He gets stressed out and seriously worked up over it sometimes. You'll be fine, I don't think it's too serious. Everyone has moments.
on September 10, 2014
on September 10, 2014
I used to have bad anxiety i would worry about everything maybe your worrying about something but its up to u to find out what that something your worrying about is.
on September 10, 2014