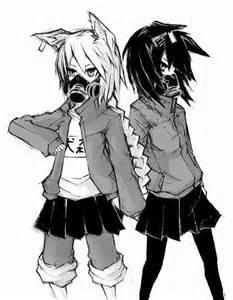 Which Gift?
Mia: Hey everybody
Tia: Yo!
Mia: We have to wear these masks for announcements now
Tia: I don't mind them, make us look cool!
Mia: Anyways, we have a question to ask you guys.
Tia: Celest is having a problem and is keeping it to herself! Mia why don't you explain? *sneaks a bit of cake in mouth*
Mia: *roles eyes* Sure. Celest is having a problem with a gift she's getting for her "special someone".
Tia: Don't forget that she's already made a bookmark of vines for him!
Mia: I was GETTING to that.... *sighs* Yea so she made a bookmark for him, but he doesn't read much. He loves video games and dub-step. She's thinking that the simple little bookmark isn't enough.... She's a pretty good drawer and sings.... Not very often but from what other people say, she's ok....
Tia: Any ideas on what this hopeless chick should get/make for him?
▼Scroll down for more questions▼
Answers (
2

)

vote up or down the answers

Answer Link
Uhhhh ummmm what about postcard? o_o and some cookies or plushie put where he can see and RUN 8D
on April 22, 2014
Answer Link
HAH CLEEST MADE YOU GUYS PYROs TWO!! XD but I am serious just give him a nice, long, warm, comforting, free hug!
on April 22, 2014