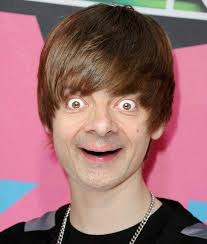 Is it good to be different?
People think Me and my friends are really weird. We make silly noises, watch random videos, do silly stuff & laugh at most things. Is it okay to be different from everybody else or should we be normal?
▼Scroll down for more questions▼
Answers (
14

)

vote up or down the answers
HELL YEAH! i am weird cuz i am a girl and i like megaman.....so i like being diffrent and also i am weird like u XD
on July 17, 2014
Hey , chill. I've done crazier things than that! Not to mention one of the teachers caught me dancing like a chicken in the corridor.

And why even ask? You know that being unique is awesome!
on April 05, 2014
Being different is awesome! No matter which music you like, which books you read or which video games you play, you're awesome and unique! Don't let others put you down just because you have different interests. Just stay true to yourself!
on September 19, 2016
Yes yes and yes. Bullies say no. Hey you reading dis! Be you! Forevah! DOSE BULLIES DONT BELONG HERE
on July 28, 2016
Sometimes, ps. Love the pic LOL
on September 24, 2015
It is great to be different. If I had the option to be different then I would take it.
on February 02, 2015
God made us all different we wasnt meant to be the same me and my friends do the thing and people talk and look but do you think we care? noo we keep doing us they can talk and look all they wont cus i know they anit going do nothing to us.
on May 20, 2014
on April 12, 2014
Guurrrlll.
I am probably one of the only girls that talk with there mom like a 2 year old.
Stay up till 2. Laugh at things that are like YT poops.
And miss spell tings fu nu reason.
All I can say is.
Being you is the best thing Anybody could be.
It does not matter is your a fab Beatle or a homeless pep.
See More▼

YOUR YOU! Stay you, dont care what others say!
Be you. If you don't... you never will be..
on April 05, 2014
We too and me and my friend have a language that no one else understands xD
Don't think about what others think, you do what ever you want and like, differency is awzom!!
on April 05, 2014
Be U !!! Be differnt Stand out Make people look and show them that Ur Differnt
on April 05, 2014
of course!! normal is just a setting on the washing machine
on April 05, 2014
Being different is AWESOME!!!!!!!!!!!!!!!!!!!!!!
I don't want to be normal.
on April 05, 2014